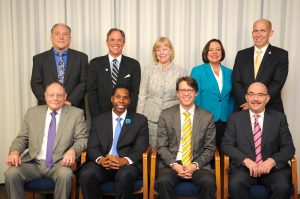 Council to Interview Five Applicants for Planning Board on Tuesday
Montgomery County Council members are set to interview five applicants to fill an upcoming vacancy on the Montgomery County Planning Board. The May 24th interview session is open to the public and will be televised live.
The interviews will take place in the Third Floor Conference Room of the Council Office Building at 100 Maryland Avenue in Rockville, and they will be televised live by County Cable Montgomery (CCM—Cable Channel 6 on Comcast and RCN, Channel 30 on Verizon). You can also watch online, here.
The applicants are seeking to fill the position of Amy Presley, who has served two terms. The applicants to be interviewed, include: Gerald Cichy of Rockville, Mark Firley of Montgomery Village, Dennis Kamber of Poolesville, Tina Patterson of Germantown and David Perdue of Silver Spring.
According to a county news release, the position can be filled by a Republican, a voter who declines to affiliate with a party or by a member of another party officially recognized by the Montgomery County Board of Elections. In addition to Presley (Republican), current board members are Chair Casey Anderson (Democrat), Norman Dreyfuss (Republican), Natali Fani-Gonzalez (Democrat) and Marye Wells-Harley (Democrat).
Find out more about the applicants, here.