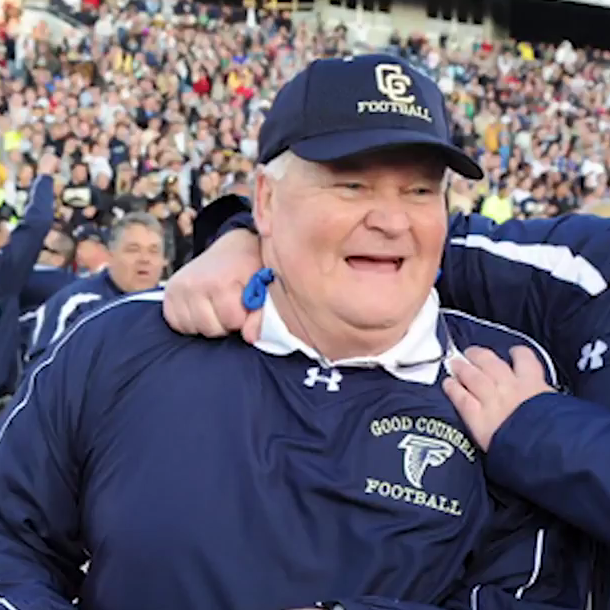 Council to Recognize Former GC Football Coach Bob Milloy (VIDEO)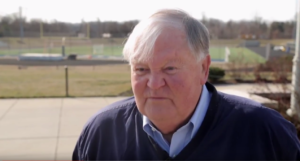 Former Good Counsel high school football coach Bob Milloy will be recognized by the Montgomery County Council next week.
Milloy, who has won more games as a high school football coach than anyone in Maryland history, will be honored at the Council's May 16th meeting.
"Montgomery County has been home to some of the leading people in the nation in many fields, including business, government, entertainment and sports," said County Council member Sidney Katz. "Many of those people have not only been leaders, they also influenced the lives of generations of people who were around them. Yet, only a few of these people would be called legendary in their respective fields, and when it comes to high school football, Bob Milloy certainly has earned the title of  legendary. We are fortunate he decided to stay on the sidelines in Montgomery County for 47 years."
Milloy's teams won eight Maryland state titles, placing him in a tie with the late Al Thomas for the all-time most state titles by a Maryland coach. Milloy's Springbrook teams won state titles in 1979, 1980, 1981, 1985, 1988 and 1989. His Sherwood teams won state titles in 1995 and 1996.
He guided Good Counsel to four consecutive Washington Catholic Athletic Conference championships from 2009 to 2012. His teams finished as the No. 1-ranked team each of those four seasons in The Washington Post's metropolitan area rankings of top high school teams. The undefeated 2011 Good Counsel team was ranked No. 4 nationally in the ESPN high school rankings.
He has coached numerous players who went on to play in college and in the NFL.
Milloy has been named to the D.C. Sports Hall of Fame, the Maryland High School Football Coaches Hall of Fame, the National High School Football Coaches Hall of Fame and the Springbrook High School Hall of Fame. The Pigskin Club of Washington, D.C., named him "Coach of the Year" in 1981, 1990, 1996 and 2007. He was honored by the Touchdown Club of Washington, D.C., as "Coach of the Year" in 1980, 1986, 1995 and 2012. The Touchdown Club named him "Coach of the Decade" for the 1990s.
Coach Milloy began his coaching career in Montgomery County while still in college at the University of Maryland. His first job was coaching at Little Flower School in Bethesda.