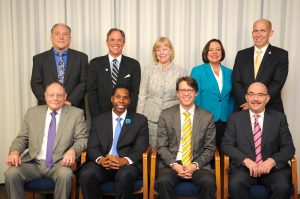 Council Unanimously Approves Westbard Sector Plan (VIDEO)
The Montgomery County Council approved new zoning for the Westbard community of Bethesda on May 3rd. The vote was unanimous, 9-0, for the Westbard Sector Plan.
"It has been, to say the least, a bumpy ride," said Council Vice President Roger Berliner, who worked to reduce the density in the plan and who also found himself the target of a group of residents who said the downsized plan didn't go far enough to reduce the density.
Some of those residents held signs that read, "Save Westbard" throughout the Council meeting.
Councilmembers Hans Riemer, Marc Elrich, Roger Berliner and Nancy Floreen addressed the process and the controversial plan with comments from their seats at the Council dais. Take a look, below:
After the Council vote, the Westwood Shopping Center's private developer, Equity One, released the following statement:
"This has been a long process, and we appreciate the time and hard work the community, planners and the Council have invested in updating the Westbard Sector Plan. We look forward to the next stage and continuing our work with all stakeholders as we move towards a new mixed-use Westwood that's modern, convenient and community friendly."