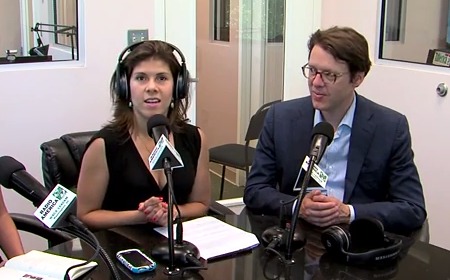 Councilmember Hans Riemer Guest on Radio Show (Video)
Montgomery County Councilmember Hans Riemer and Yenny Delgado of Umbrella Initiatives for Education were the special guests on June 6 as the Montgomery County Council show on Radio America (WACA 1540 AM) covered a range of topics including the importance of early childhood education and the need to expand childcare opportunities.
A video broadcast of Sintonía con el Concejo del Condado de Montgomery (Tuned In with the Montgomery County Council), which is hosted by Julie Ríos Little, can be viewed below:
The show is part of a community partnership that will provide the Latino community with key information on issues and programs and will provide a forum for residents to express views and ask questions of Councilmembers. The partnership includes the 30-minute weekly show at 2 p.m. each Friday on the Washington Region's most popular Spanish language station.
Each week, the show will feature guests talking about important issues before the Council and also will provide information about programs offered by the County to help residents and businesses. A regular focus of the show will be on small business. Regular guests will include owners of small businesses in the County telling their stories of success.