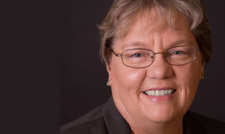 Councilmember Katz Recognizes Cathy Drzyzgula Day in District 3 (VIDEO)
Former Gaithersburg City Councilmember Cathy Drzyzgula was honored for her service to the city at a reception at City Hall on Nov. 16th. In this MyMCMedia Extra video, Montgomery County Councilmember Sidney Katz declares it "Cathy Drzyzgula Day" in District 3 and he says that's a first.
Drzyzgula was honored on Nov. 16 for her years of service to the city of Gaithersburg. She served as a City Councilmember for eight years and as a city volunteer for ten years before that. Drzyzgula did not seek reelection to the Council because she and her husband plan to retire and move away from the area in the future.
Related: