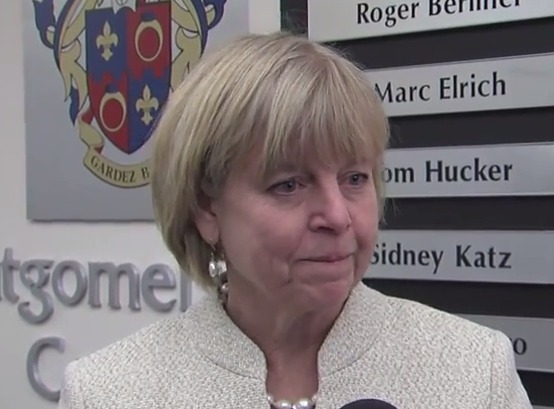 Councilmember Nancy Floreen to Receive CEASE Policy Advocacy Award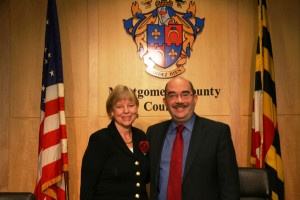 Montgomery County Councilmember Nancy Floreen is scheduled to receive the 2015 Policy Advocacy Award on Oct. 10 from Communities Engaged in Advocating for Smoke-free Environments (CEASE) for her work to ban electronic cigarette use in places where traditional tobacco smoking is prohibited.
The award will be presented at the CEASE annual conference that will start at 9 a.m. at Morgan State University in Baltimore. Council President George Leventhal, who chairs the Council's Health and Human Services Committee, is also named in the award.
Floreen was the lead sponsor of Bill 54-14 that was unanimously approved by the Council in March. The bill prohibits the use of electronic cigarettes in public places where traditional tobacco smoking is prohibited. The bill also requires child-resistant packaging for nicotine containers.
The CEASE Policy Advocacy Award recognizes individuals who have played a major role in developing and/or facilitating the passage of important tobacco-related legislation, regulations or private policies. Recipients of the award may have achieved success by serving in public office, in appointed positions or as advocates for the public's health.
" I'm honored to be selected for this award, and I'm grateful for all the terrific work CEASE is doing to keep people safe from the hazards of tobacco, said Floreen. "Perhaps swayed by the belief that electronic cigarettes are safe, or emboldened by the fact that e-cigarettes have little odor that parents could detect, teens who have never tried traditional cigarettes are using e-cigs, putting themselves at risk for nicotine addiction, nicotine poisoning or exposure to harmful chemicals. I am not willing to gamble with the health of our current generation of young people. The Council did the right thing by putting these protections in place."
Electronic cigarettes have a cartridge that holds a liquid solution containing varying amounts of nicotine, flavorings and other chemicals; a heating device; and a re-chargable battery. Generally, puffing action activates the heating device and vaporizes the liquid in the cartridge. Although they do not produce tobacco smoke, e-cigarettes still contain nicotine and other potentially harmful chemicals. There is a concern that e-cigarette use may serve as a gateway or introductory product for youth to try other tobacco products.
CEASE is a collaborative organization that aims to reduce tobacco use and to promote healthy living in Southwest Baltimore. CEASE provides smoking cessation treatment and prevention activities, disseminates data and information and engages in public advocacy. It partners with businesses, faith-based organizations, public schools and recovery organizations to educate, encourage and excite residents to choose healthier ways of living.