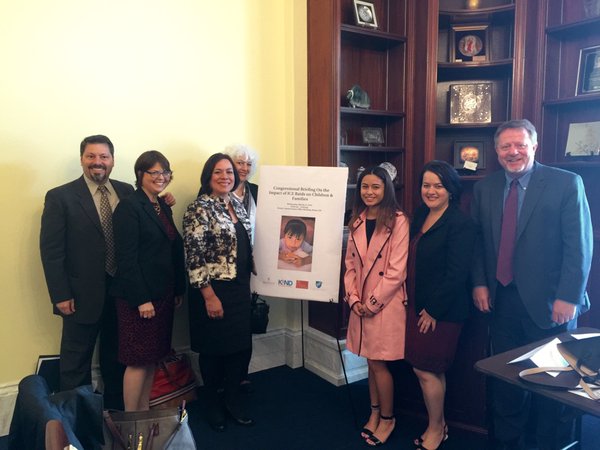 Councilmember Nancy Navarro Attends Congressional Briefing on Unaccompanied Minors (PHOTOS)
Montgomery County Councilmember Nancy Navarro along with members of Congress and educators spoke at a congressional hearing at Capitol Hill on Wednesday. Speakers at the hearing, which took place at the Cannon House Office Building in Washington D.C., sought to convince members of Congress to address issues surrounding migration.
The hearing focused on the influx of unaccompanied minors into the legal system, reported deportation raids by the Department of Homeland Security that would target Central American immigrants and causes surround migration. Organized crime, violence, human trafficking, gangs, poverty and persecution were discussed as the main causes for migration from Central American countries.
"The influx of children who have fled the violence in parts of Central America is creating a humanitarian crisis in local jurisdictions throughout the nation," Councilmember Navarro said in a news release. "Many children require medical attention, are victims of sexual abuse, and have experienced severe trauma. It is important for local governments to understand the scope of this issue in order to be prepared and respond to the needs of this vulnerable population of children."
U.S. Rep. Linda Sanchez (D-CA) who is the chair of the Congressional Hispanic Caucus and U.S. Rep. Zoe Lofgen (D-CA) also attended the event. U.S. Reps Lucille Royval-Allard (D-CA) and Luis Gutierrez (D-IL) introduced a bill in the House that would guarantee access to legal counsel and orientation programs as well as services for children involved in immigration proceedings.
Some photos from today's Congressional Briefing on Unaccompanied Children @HispanicCaucus https://t.co/vXwjdgTPAj pic.twitter.com/iMm89WM5hZ

— Nancy Navarro (@nancy_navarro) March 23, 2016
.@RepLindaSanchez speaking at Hill briefing on need to protect children &#EndFamilyDetention. pic.twitter.com/appwGVEydq

— First Focus (@First_Focus) March 23, 2016