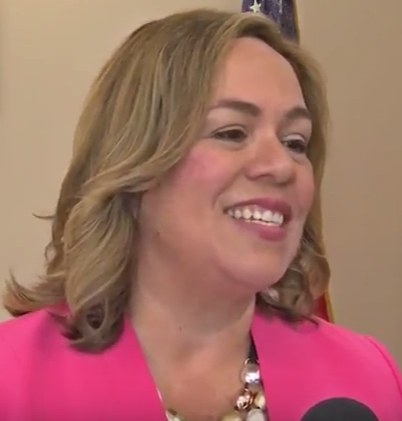 Councilmember Nancy Navarro Files Paperwork For Re-Election Bid (VIDEO)
It's official. Montgomery County Councilmember Nancy Navarro is running for re-election to her District 4 Council seat. Navarro, a Democrat, filed her paperwork Thursday at the Board of Elections offices in Gaithersburg. She is the first candidate to file for the District 4 seat.
It was a bittersweet and exciting moment for Navarro.
"I am definitely thinking back on all the amazing things that we have been able to accomplish and still the work that needs to be done," Navarro said. "I am really grateful and honored to have had this opportunity to serve the residents of Montgomery County, specifically the residents of District 4."
The District 4 map includes the communities of  Wheaton, White Oak, Randolph Hills, Kensington Heights, Aspen Hill, Glenmont, Layhill Village and Colesville, Ashton, Sandy Spring, Olney, Sunshine, Etchison, Brookeville and Laytonsville.
Navarro said she plans to use the campaign finance fund.
"Today is the start of making sure that I can get to that threshold so I can qualify," Navarro said.
Navarro was elected to represent District 4 on the Montgomery County Council in a special election on May 19, 2009 and she was re-elected in 2010 and 2014. She chairs the Government Operations and Fiscal Policy (GO) Committee and serves on the Education Committee. She was elected by her colleagues to serve as Council Vice President in 2012 and Council President in 2013.
As her campaign moves forward, she said she looks forward to engaging with residents in her district and learning more about their goals as she continues to serve her constituents.
Voters can find out more about Navarro's campaign online here. The 2018 Gubernatorial Primary Election is scheduled for June 26, 2018.