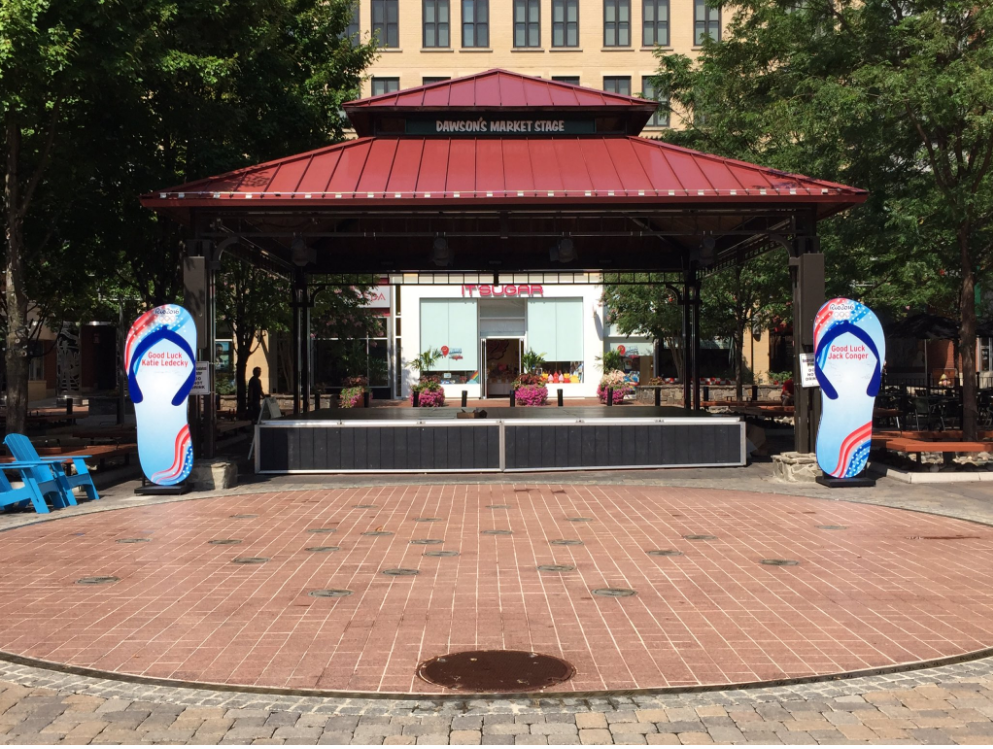 UPDATED County Celebrates Local Swim Olympians Ledecky and Conger with Giant Flip Flops (PHOTOS)
UPDATE August 1, 2016 Local Olympian Katie Ledecky thanked Rockville Town Square on Facebook for hosting a flip flop signing event. Rockville Townsquare along with Montgomery Recreation and Reach for the Wall have two giant flip flops on display for residents to sign, so they can wish Ledecky and Jack Conger luck at the Rio Olympics.
Over the weekend local youth swim teams stopped by to sign the giant flip flops.
Original July 29, 2016 Rockville Town Square, Montgomery County Recreation, and Reach for the Wall are wishing local swim Olympians Katie Ledecky and Jack Conger good luck, in style.
Residents are welcome to sign two giant flip flops that are on display at Rockville Townsquare. According to Rockville Town Square Spokesperson Sam Schmieder the flip flops are a community effort to send good luck to Ledecky and Conger from their home town. Both Ledecky and Conger began swimming on local teams in the county.
Schmider says they hope to get the flip flops to the Olympians when they return from Rio. She also encourages residents to Tweet #MoCo2Rio so that the swimmers can look at pictures from the road.
The flip flops will be on display on Fridays, Saturdays, and Sundays starting at 11 a.m., now through August 13th.
.@RockvilleTownSq is celebrating Olympians @katieledecky and Jack Conger with giant flip flops. @mymcmedia pic.twitter.com/N79GAPtwqG

— Maureen Chowdhury (@MediaMaureen) July 29, 2016
Come out to the Square today to wish our hometown Olympians luck by signing giant flip flops! #MoCo2Rio pic.twitter.com/v2YpsrTPJb

— RockvilleTownSquare (@RockvilleTownSq) July 29, 2016