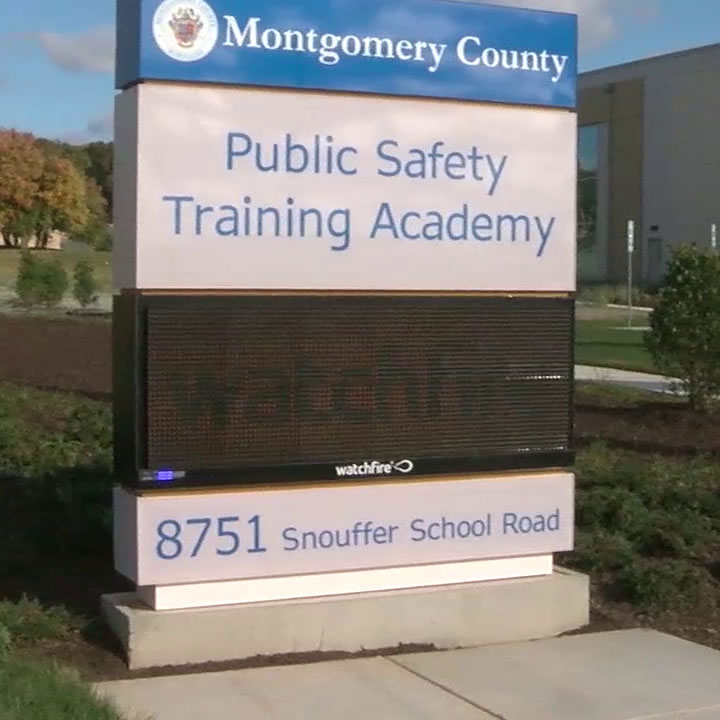 Montgomery County Opens New Public Safety Training Academy (VIDEO)
Local officials recently gathered for a ribbon-cutting ceremony at the new state-of-the-art Public Safety Training Academy (PTSA), which is located at 8751 Snouffer School Road in Gaithersburg near Montgomery Village.
The new PSTA is part of the Montgomery County Multi Agency Service Park (MASP). Its opening marks the completion of the eighth project and final construction of a new facility in County Executive Ike Leggett's Smart Growth Initiative (SGI).
You can find more information about the PSTA, here.
Grand Opening of MoCo PSTA – high bay city-scape, large classrooms, multi-story admin bldg, gymnasium, driver training & more on 41 acres pic.twitter.com/HJrwBsWVrC

— Pete Piringer (@mcfrsPIO) October 28, 2016
New $69M MoCo Public Safety Training Academy has many eco-friendly & state-of-the-art features, incl many new props & 5-bay fire station pic.twitter.com/AoKRne8ESM

— Pete Piringer (@mcfrsPIO) October 28, 2016
MCFRS Fire Chief Scott Goldstein provides some welcoming remarks & thanks during opening ceremonies prior to Ribbon Cutting for new PSTA pic.twitter.com/tIye4xjVw6

— Pete Piringer (@mcfrsPIO) October 28, 2016
Ribbon cutting ceremony for new public safety training academy in Gburg with @VoteIkeLeggett @NancyFloreen @marc_b_elrich @JDelaneyforMD pic.twitter.com/F97G68T1Sf

— Craig Rice (@RicePolitics) October 28, 2016
New MoCo Public Safety Training Academy – Fire/Rescue/EMS Training Facility pic.twitter.com/JlW7rcgiMT

— Pete Piringer (@mcfrsPIO) October 28, 2016
CE Leggett lead the ribbon cutting ceremonies for the new Public Safety Training Academy in Gaithersburg. Details: https://t.co/6BVpnWjyWh pic.twitter.com/RMY6Be1drs

— Montgomery County MD (@MontgomeryCoMD) October 28, 2016
The program for today's ribbon cutting ceremony at the Public Safety Training Academy. @mymcmedia pic.twitter.com/3ZPGIJGpdJ

— Sonya Burke (@SonyaNBurke) October 28, 2016
The ribbon cutting for the new Public Safety Training Academy. Thanks to everyone who made this a reality. @mcpnews pic.twitter.com/xXEzYWZulJ

— Commander Anderson (@MCPD1DCommander) October 28, 2016