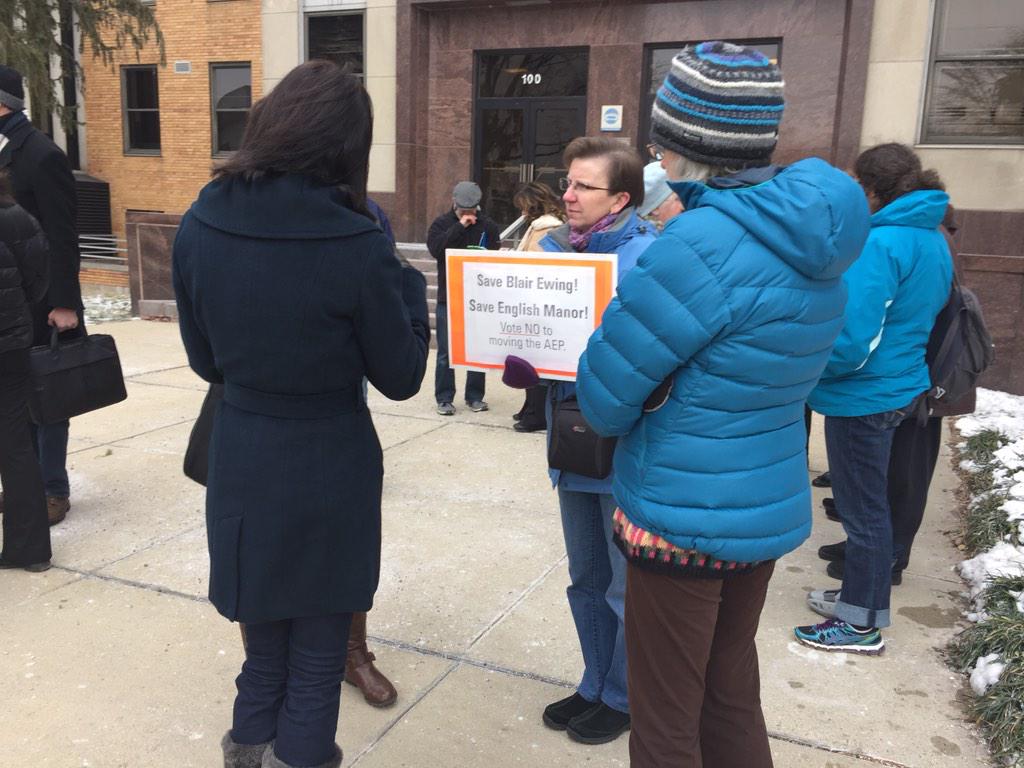 County Committee Orders Two Studies for MCPS Alternative Education Program (PHOTOS & VIDEO)
Opponents of a Montgomery County Public Schools' plan to move the county's Alternative Education Program from the Blair G. Ewing Center to the English Manor School property off Bestor Drive won a small victory Thursday afternoon.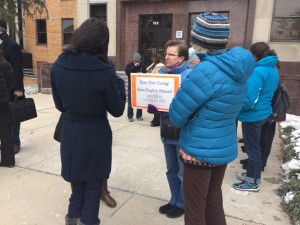 The Montgomery County Council's Education Committee approved a plan Thursday that has the county's school system looking at both the Blair site and English Manor building for the program that currently includes 138 students. The council committee agreed to allow the school system to spend $1.5 million for two feasibility studies- one that looks at renovating to Ewing site off Avery Road and another that allows the school system to check out if the English Manor property or another school system-owned site would work for the programming.
MCPS had wanted to take the AEP from the Ewing property and renovate the English Manor building- to the tune of about $16 million- to accommodate the programming. English Manor is currently leased as a independent grades 4-12 school called School for Tomorrow. It sits on an 8-acre site, as opposed to the more than 20-acre property where the Ewing school is located.
Not dependent on the move of the AEP but certainly linked would be the MCPS proposal to relocate the school system's bus depot from Crabbs Branch Way to the Ewing site. The school system is required by the county to vacate the Crabbs Branch location by 2017.
Those against the proposal to move the AEP programming to English Manor cite issues of traffic on Avery Road should a bus depot be located there and they said they were against the county demolishing a school when the school system was overcrowded.
Councilmember Nancy Navarro questioned how that proposal would fare when looked at by state officials at a time when the county is aggressively lobbying for school construction money.
Blair Ewing Principal Dr. Ira Thomas said he was in favor of the feasibility studies, so long as his students get a renovated school as the outcome.
"My kids are the most academically vulnerable socially and emotionally in the county," Thomas said. "My students ask me why do we have to go to a school in what looks like a prison?"
Councilmember Marc Elrich suggested that building a new school on the Ewing property compares in price to extensively renovating the English Manor property to fit the needs of these middle and high school students.
Jamison Adcock, organizer of a rally held just before the committee meeting Thursday, said he was pleased that there was a plan to get more information about the proposal.
"We want more information and more transparency," he said after the meeting.
Thanks to @nancy_navarro, @Marc_Elrich & community for teamwork in crafting compromise solution in the Blair Ewing/English Manor ES project

— Craig Rice (@RicePolitics) January 29, 2015
Ewing Principal Ira Thomas: We are the last stop for these kids. It is important they have a place to call home. pic.twitter.com/eveIExZ4xm — krista brick (@lmjpbrick) January 29, 2015
.@RicePolitics: I have to trust in someone who is saying they have the best interest of their kids at hand. pic.twitter.com/77LwXQj6DF

— krista brick (@lmjpbrick) January 29, 2015
Small rally before @MoCoCouncilMD Ed committee to protest closing Blair G. Ewing school. pic.twitter.com/9z9RcLbHcs

— krista brick (@lmjpbrick) January 29, 2015