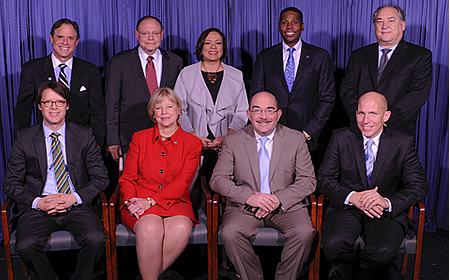 County Council Approves Resolution Opposing Gas Utility Merger
Montgomery County Council is not in favor of a proposed merger between WGL Holdings, Inc. and the Canadian-based AltaGas Ltd.
A majority of the council voted to reject the merger in a resolution sponsored by Councilmember Marc Elrich at its council meeting on Tuesday.
Despite the council's disapproval, Maryland's Public Service Commission has the final say-so.
WGL Holdings is the parent company of Washington Gas which has more than 400,000 customers in Maryland and employs 1,500 people.
If the commission agrees on the $4.5 billion transaction, Washington Gas will become part of the AltaGas family.
"The combined company will be in an even stronger position to deliver exceptional service at affordable rates, more investment in the community and workforce training programs, as well as good secure jobs," Brian Edwards, director of corporate communications for the Washington Gas company, said.
According to Edwards, no layoffs are planned as part of the merger and Maryland consumers will experience "a seamless transition, with continued, reliable service."
But testimony written by Howard Lubow, senior consultant at Overland Consulting on behalf of the staff of the Maryland Public Service Commission said the merger will have a negative impact on Maryland consumers.
Lubow asked the commission to deny the proposed merger because it's "not consistent with the public interest, convenience and necessity, including benefits and no harms to consumers."
Staff from the Apartment and Office Building Association (AOBA) agrees with Lubow.
Written testimony from Bruce Oliver on behalf of AOBA states the merger "jeopardizes the financial strength of Washington Gas in a manner that is detrimental to the long-term interests of all Washington Gas customers in Maryland."
These testimonies are in part the reason why Elrich said he sponsored the resolution opposing the merger.
"It's the best thing to do to protect Montgomery County rate payers," he said.
But Councilmembers Nancy Floreen, Craig Rice and Hans Riemer abstained from voting citing inadequate information.
"I abstained from the vote because I don't think the council has done full diligence on the proposed merger," Riemer said. "When we did the Exelon and Pepco merger, I think there was a tremendous amount of dialogue at the council about whether that was in the best interest of our residents."
Public comment for the proposed merger is due Oct. 20 to Maryland's Public Service Commission who will have until Dec. 5 to make a decision.
For more information about the proposed merger, click here. 
.@MoCoCouncilMD just passed a resolution opposing the proposed merger of WGL Holdings and AltaGas. It passed 6-0-3

— Mitti Hicks (@MittiMegan) October 17, 2017
Councilmembers @NancyFloreen, @RicePolitics and @hansriemer abstained from voting. @mymcmedia

— Mitti Hicks (@MittiMegan) October 17, 2017