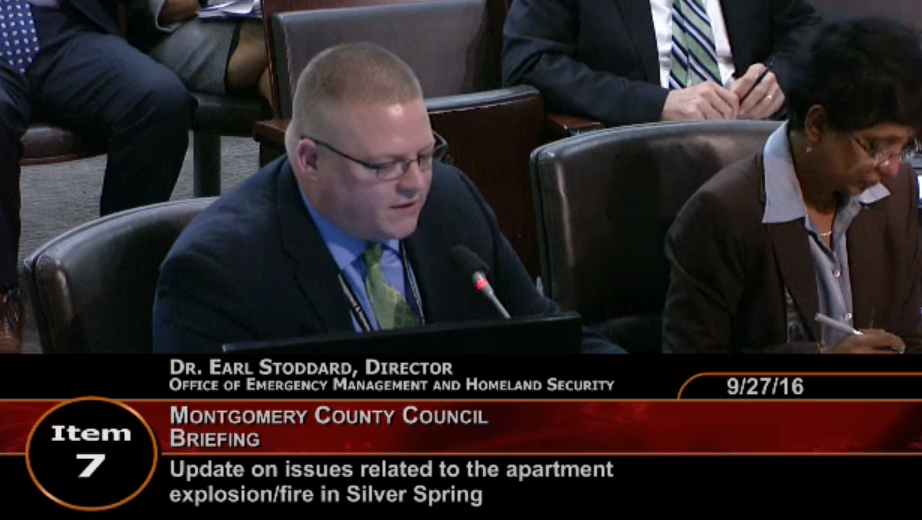 County Council Briefed on Flower Branch Apartments Explosion (VIDEO & PHOTOS)
The Montgomery County Council received a briefing from officials involved during and after the tragic on Flower Branch Apartments explosion today.
Earl Stoddard, Director, Office of Emergency Management and Homeland Security, (OEMHS), Chief Scott Goldstein, Montgomery County Fire and Rescue Service (MCFRS), Chief Thomas Manger, Montgomery County Police Department (MCPD), Clarence Snuggs, Director, Department of Housing and Community Affairs (DHCA), Uma Ahluwalia, Director, Department of Health and Human Services (DHHS), Tom Buckley, Code, Planning & Cross Connection Unit Coordinator, Washington Suburban Sanitary Commission (WSSC), and representatives from the National Transportation Safety Board (NTSB) provided a detailed update on the situation of residents and plans to improve responses to future incidents.
Washington Gas representatives were not in attendance, although they were invited to the briefing.
One of the key concerns from the councilmembers was a lack of communication and information available to them. It was one of the first points Montgomery County Chief Administration Officer Tim Firestine addressed.
"I understand that some of you believe that there should've been more direct communication with individual councilmembers during and after the incident. We should always make getting clear accurate information out during and after an emergency situation a high priority," Firestine said.  "We certainly attempted to do this with our press events, social media, and other communications. But for now let me suggest that we best address this issue by having…a communication protocol for keeping councilmembers updated for incidents like this. It could be similar to the structure we have in place during snow operations when the emergency operations center is activated," he said. 
The bulk of the presentation focused on the current and future situations of those families and residents impacted by the explosion. According to DHHS Director Uma Ahluwalia, a total of 63 households were directly impacted by the explosion. Those households were from the apartment buildings located at 8701 and 8703 Arliss Street.
All 63 households have been placed in safe housing since the shelter closed on August 21st. Some are awaiting permanent housing placements while others have opted to make their own arrangements. DHHS said they will keep track of all residents and check in on those families in their database.
Funds were distributed to households from the Montgomery Housing Partnership Fund created for the residents impacted by the explosion. Ahluwalia said that more than $750,000 was raised by Sept. 17th, when the fund closed.
"Apartments blow up, titles are lost for cars, keys were misplaced, all those things needed to be restored,"Ahluwalia said. "Initial checks were distributed on August 31st to the 63 households, with amounts ranging from $3,500 for one to two people and $9,600 for six or more people and this did not include the death benefit distribution that was separate," she said. 
Funds were also distributed to residents from neighboring buildings, but they were smaller amounts, like a $100 on a prepaid card. 
As of now, there is $277,000 still available in the fund. $24,000 is set aside for the family of the seventh victim , $10,000 just in case temporary housing needs to be extended for some families, and money for document retention. "After these are all done, everybody will at least get another 50 percent of the original dispersement that happened on August 31st….before the fund closes out completely and there's no money left," Ahluwalia said. 
She also noted that mental health is a key concern and said that DHHS has committed to offering mental health services for the next six months in the community in partnership with healthcare foundations. 
Officials also said that NTSB is expected to release a final report in the next few months. Montgomery County Executive Ike Leggett has ordered an assessment into the response to the incident
CM @tomhucker remarks on the #LongBranch apt blding #explosion #MoCo pic.twitter.com/SROdDLNCfP

— County Cable MoCo (@CountyCableMoCo) September 27, 2016