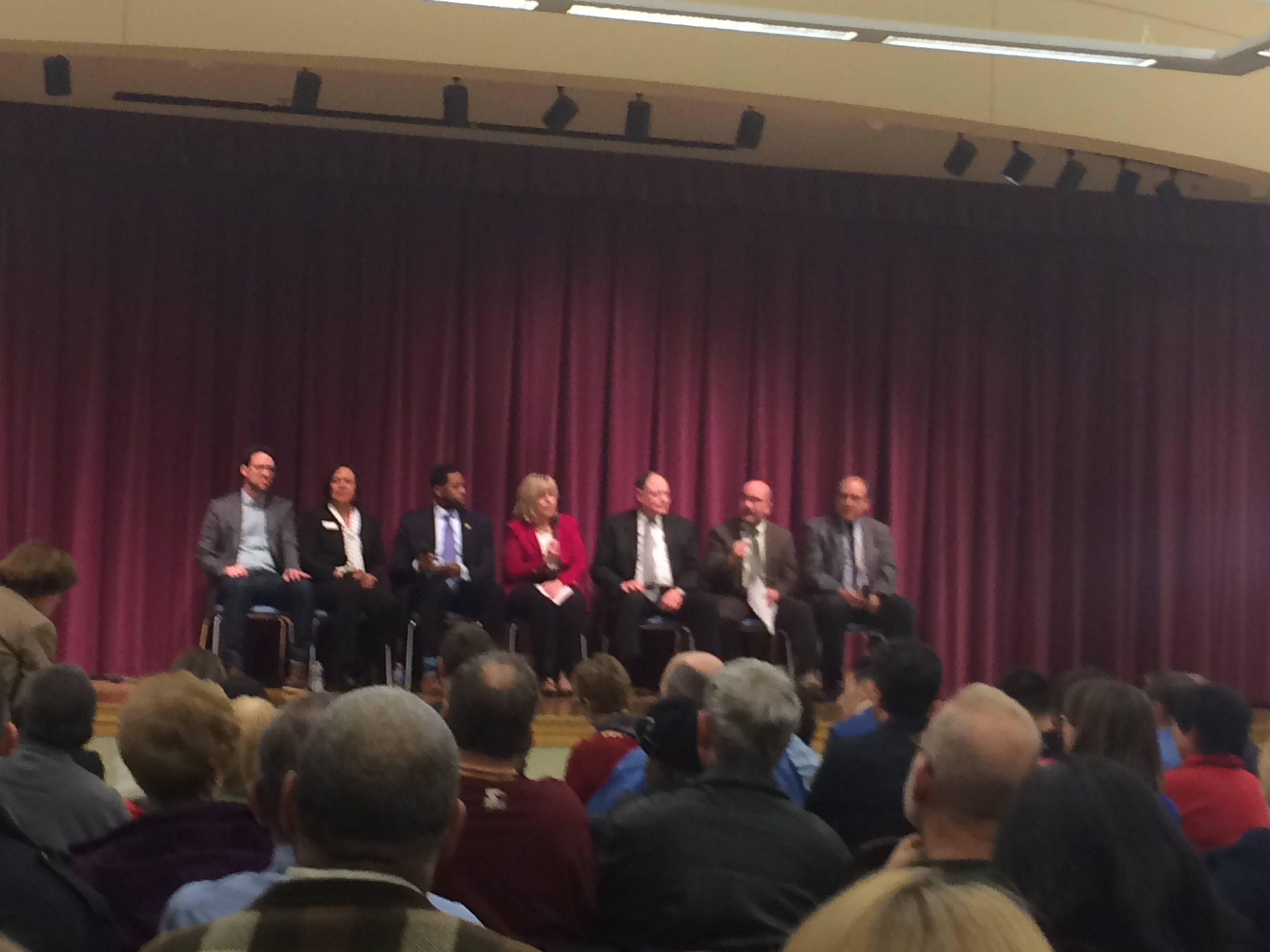 UPDATED Crime, Traffic, Schools Discussed at Town Hall Meeting in Clarksburg (PHOTOS)
UPDATED Montgomery County Councilmembers met residents in Clarksburg at a Town Hall meeting held at Rocky Hill Middle School on March 2. Residents voiced their concerns on various topics, including; public safety, traffic congestion, and overcrowded schools. Some residents were frustrated with congestion on Route 355 and the proposed M83 (Mid-County extension).
Barry Fantle is a Clarksburg resident.
"I've been living in Clarksburg for 12 years and the traffic up here is horrendous," Fantle said. "There's a very important road called M83 that would help alleviate some of that traffic, it's a master plan road, it's been on the books for decades, and certain members of the council are unwilling to fund it and some have tried to remove it completely from the Master Plan," he said, "it's a very important issue, they need to see that people are interested in this issue and need to see the numbers of people that interested in the issue."
Ibi Teleki Sofillas is the president of the Clarksburg Chamber of Commerce.
"The most important thing is roads because the community is not safe in a lot places for our community members, including on 355, as well as on 27, and the smaller roads in between. That's one of the more important things," Teleki Sofillas said. "But I know our community, our residents are also looking, to lighten the load in the schools, to have libraries, to have fire stations, to have all of those regular things that most of the communities in Montgomery County already  have," she said.
Residents also brought up concerns about development in Damascus.
"I'm here because there's been some discussion in Damascus about a development that's being put in behind the Safeway that's going to put a lot of people in Damascus without the infrastructure that we believe is necessary to support that kind of development," Barbara Zellers, a resident of Damascus, said. "I know that they're redoing…the way they evaluate whether…a development can be supported by the transportation and infrastructure that's in place. And they're reevaluating how they do that. But my question was whether or not that's going to be done on time to prevent some of these problems that everybody was talking about tonight with the development that overrides the transportation," Zellers said.
Montgomery County Councilmember Craig Rice, who's district includes Clarksburg, said the Town Hall was a good meeting that touched on many topics and that the Council will look into issues that residents highlighted.
"We'll continue to work on those stumbling blocks that continue to confound us throughout the County, not just Upcounty, when it comes to working with State Highway, when it comes to some problem intersections, and problem roads where we still need some improvements," Rice said, "and then also budgetarily we just don't get enough money when it comes to funding these road projects as well, so we'll have to take a look at that in the context of our budget," he said.
County Cable Montgomery's Susan Kenedy moderated the Town Hall and Councilmembers Nancy Floreen, George Leventhal, Nancy Navarro, Marc Elrich, Sidney Katz and Hans Riemer participated in the meeting. Councilmembers Tom Hucker and Roger Berliner did not attend.
Councilmembers meet with residents after town hall. @mymcmedia pic.twitter.com/GVFZNCbhUt

— Maureen Chowdhury (@MediaMaureen) March 3, 2016
Overcrowded schools another concern raised by one resident. Council will be looking at budget in Spring. @mymcmedia

— Maureen Chowdhury (@MediaMaureen) March 3, 2016
.@Marc_Elrich says that developers should not be building without adequate infrastructure. @mymcmedia

— Maureen Chowdhury (@MediaMaureen) March 3, 2016
Development and it's impact on traffic and road conditions. Damascus master plan comes under fire. @mymcmedia

— Maureen Chowdhury (@MediaMaureen) March 3, 2016
.@RicePolitics says additional officers have been requested for the Clarksburg area to address public safety concerns. @mymcmedia

— Maureen Chowdhury (@MediaMaureen) March 3, 2016
Resident brings up public safety and security. Says that responses to break-ins is worrisome @mymcmedia pic.twitter.com/fpsg4JCrXu

— Maureen Chowdhury (@MediaMaureen) March 3, 2016
Resident asks about County Liquor store policy. @hansriemer says council back drawing board on that issue. pic.twitter.com/e0otMgIsTl

— Maureen Chowdhury (@MediaMaureen) March 3, 2016
First question of the night is about M 83 and traffic congestion in Clarksburg. @mymcmedia pic.twitter.com/lhG1GD7sOY

— Maureen Chowdhury (@MediaMaureen) March 3, 2016
.@NancyFloreen starts the town hall by addressing audience. @mymcmedia pic.twitter.com/fwBT9RqAwE

— Maureen Chowdhury (@MediaMaureen) March 3, 2016
The room is packed with local residents who will have the opportunity to ask councilmembers questions. pic.twitter.com/splpXgkPzI

— Maureen Chowdhury (@MediaMaureen) March 3, 2016
.@MoCoCouncilMD is holding its first town hall meeting of 2016 at Rocky Hill Middle School in Clarksburg tonight. pic.twitter.com/oYg3U1nqlj

— Maureen Chowdhury (@MediaMaureen) March 3, 2016