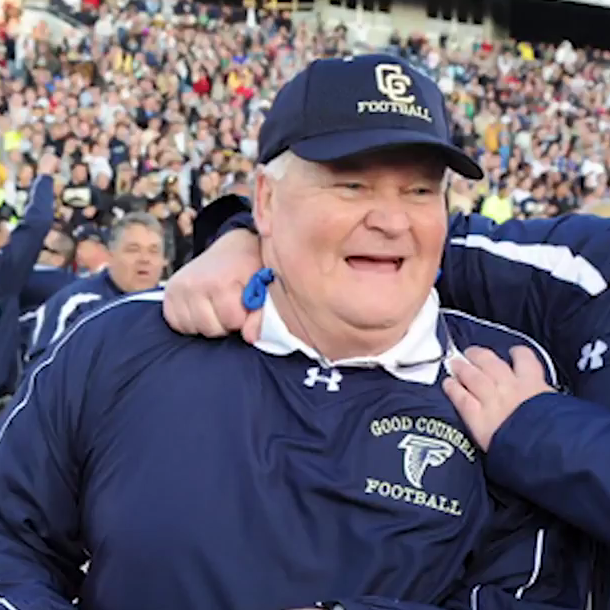 County Council Honors 'Legendary' High School Football Coach Bob Milloy (VIDEO)
The Montgomery County Council recognized "legendary" high school football coach Bob Milloy at its Tuesday meeting.
During his 47 years on the sidelines, 73-year-old Milloy has won more high school football games than any other football coach in Maryland. He recently announced his retirement. In his remarks at the Council meeting, Milloy described being a football coach as "the best job ever."
Find out more in this MyMCMedia Extra video, below:
Loren Danielson was a cornerback, place kicker and running back on the team Milloy coached at Springbrook High School in the 1970s. Danielson said he wanted to attend today's ceremony to show his admiration and respect for the coach who taught him so much about football and life.
Kelley Milloy is not only Coach Milloy's daughter but she played lacrosse for him at Sherwood High School. She said her dad knew nothing about lacrosse when he took over the team as coach but she said he studied the sport and "did a great job." She describes her dad as "honest, reliable and fair."
Coach Milloy spent the last 16 seasons coaching at Our Lady of Good Counsel in Olney. He previously was the head football coach at Whitman High School in Bethesda, Springbrook in White Oak and Sherwood in Olney. His career record included 405 victories, 124 losses and 1 tie. He is ranked No. 16 in the United States on the all-time win list for high school coaches.
As for being legendary, he said that's just another word for being "old."
Milloy was joined by his wife, daughter and former high school football players at today's ceremony. Born and raised in Montgomery County, Milloy has spent his entire life here.
Watch the Council's proclamation and Milloy's remarks, below:
.@MC_Council_Katz @nancy_navarro issue proclamation recognizing legendary football coach Bob Milloy. @mymcmedia pic.twitter.com/e7PS3uie9V

— Sonya Burke (@SonyaNBurke) May 16, 2017