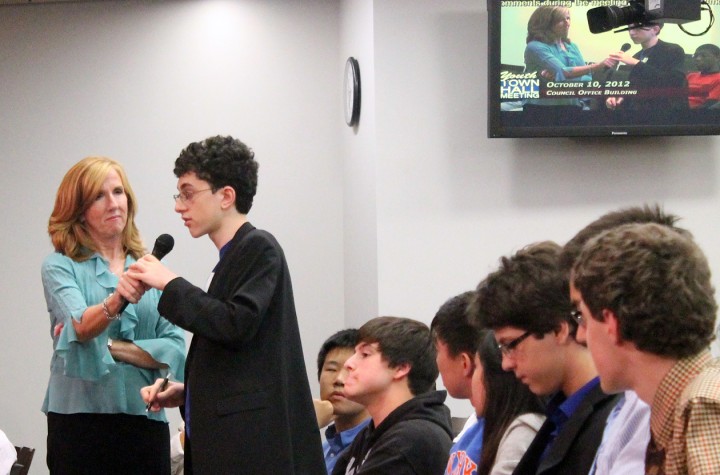 County Council Hosts Youth Town Hall Wednesday
The Montgomery County Council hosts its eighth annual youth town hall meeting Wednesday, Oct. 24 from 7 to 8:30 p.m. at the Council Office Building in Rockville.
The meeting will be held in the Council's third floor hearing room. A reception before the meeting will start at 6 p.m. where students can talk with councilmembers in an informal setting and enjoy a slice of pizza. The reception takes place in the second-floor cafeteria.
The town hall and reception give students the opportunity to meet their local representatives and to ask questions and get information about the issues that matter to them. Councilmembers will be available to visit with students and their family members at the reception. In addition, Councilmember Craig Rice, who serves as chair of the Council's Education Committee, will announce the winner of the Councilmember for a Day challenge.
Students from public and private schools from around the County and students from local colleges are encouraged to express their views on any aspect of the Montgomery County Public Schools system, programs that impact students or public policy issues that impact their daily lives. They also are encouraged to ask questions of the Councilmembers.
Students also can earn student service learning (SSL) hours for attending the youth town hall meeting.
Susan Kenedy, senior producer and communications specialist for the Council, will moderate the meeting.
The meeting will be broadcast live on County Cable Montgomery (CCM—cable Channel 996 on Comcast, Channel 1056 on RCN, and Channel 30 on Verizon) and rebroadcast at various times in the weeks following the meeting.
The meeting also will be streamed on Facebook Live and YouTube. Students can participate via social media using #MoCoYouth.
The Council Office Building is located at 100 Maryland Ave. in downtown Rockville. It is a three-block walk from the Rockville Metrorail station, which also is a main stopping point for many Ride On bus lines. For students traveling to the meeting by car, free parking will be available by entering the Council parking garage from the Monroe Street entrance.
Attention @MCPS students – tomorrow is the @MoCoCouncilMD Town Hall Meeting is tomorrow night! Here is a sample of just a few of the things on the minds of our young people! #MoCoyouthtownhall pic.twitter.com/o2tH4NERHu

— susankenedy (@susankenedy) October 23, 2018
Calling all #MoCoYouth–Don't be afraid to talk to your local elected leaders. 👻😨Join us this Wed., Oct. 24 for the Council's Youth Town Hall. Receive student service learning (SSL) hours from @MCPS and grab some 🍕at our 6 p.m. reception. Mtg runs from 7-8:30 p.m. pic.twitter.com/0VKwHBXAY0

— Montgomery Council (@MoCoCouncilMD) October 22, 2018