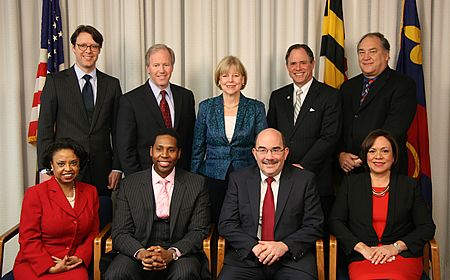 County Council Meets on July 22, White Oak & Right to Vote on Agenda
The Montgomery County Council  is scheduled to receive a report and recommendations from the County's Right to Vote Task Force on July 22.
The Council established the task force to review all local laws and practices that may affect the right to vote. A main goal of the task force was to recommend changes at the local level to uphold voting rights and increase voter participation
The report will be delivered during the Council's regular weekly session that will begin at 9:30 a.m. in the Third Floor Hearing Room of the Council Office Building at 100 Maryland Ave. in Rockville. The Council's morning and afternoon sessions, and two public hearings schedule to begin at 1:30 p.m.,  will be televised live by County Cable Montgomery (CCM—Cable Channel 6 on Comcast and RCN, Channel 30 on Verizon). The broadcast also will be streamed at www.montgomerycountymd.gov/council/ondemand/index.html .
At 12:30 p.m. in the Sixth Floor Conference Room, the Council will informally meet with the directors of the County's Regional Service Centers. That meeting will be open to the public, but will not be televised.
Starting at 11 a.m., and continuing at 2 p.m., the Council will hold its first worksession on the White Oak Science Gateway Master Plan. The Planning, Housing and Economic Development Committee has held several worksessions on the plan, making some recommended changes to the original plan recommended by the County Planning Board.
The plan's overriding goal is to create a community of vibrant mixed-use centers. The plan recommends rezoning commercial areas to the Commercial/Residential (CR) zones, which allow a broad range of commercial uses, including general offices, technology and biotechnology, research and development, hospitals, educational institutions, some manufacturing and production. It also would allow multi-family residential and supportive retail services to create a complete community. The plan's land use recommendations are based on the assumption of increased transit options via the development of a new bus rapid transit system and enhanced local bus service.
The Planning Board's original presentation to the Council is available on the Council's web site via video on demand at: www.montgomerycountymd.gov/council .
One of the public hearings scheduled for 1:30 p.m. will be on a supplemental appropriation to the 2015-20 Capital Improvements Program that would lead to the building of an artificial turf field at Churchill High School in Potomac.