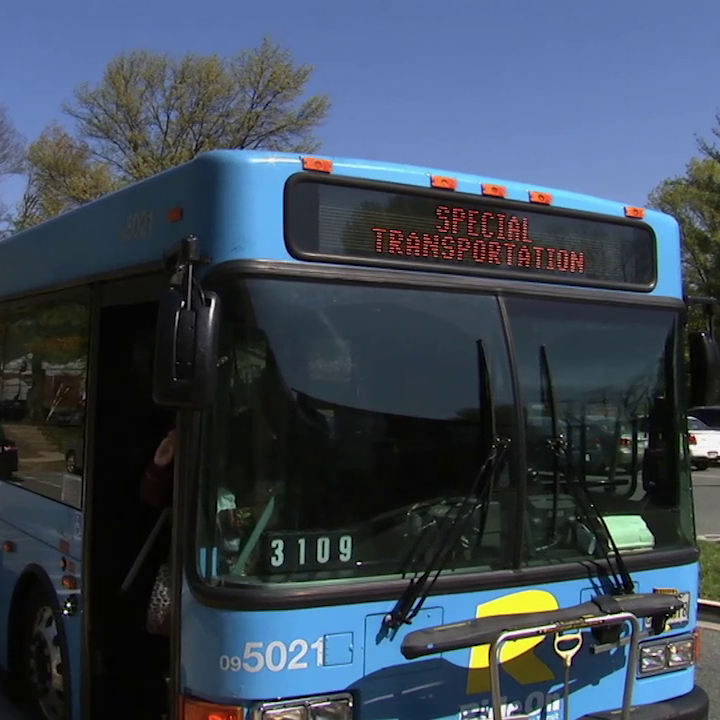 County Council Members Undertake Transit Challenge
Five members of the County Council are participating in the Transit Challenge this week. They are tasked with either walking or using public transportation like the Ride On, Metro, or carpooling to get wherever they need to go. All four of the at-large members⁠—Gabe Albornoz, Evan Glass, Will Jawando, and Hans Riemer⁠—as well as District 1 Representative Andrew Friedson are the members participating.
The councilmembers are sharing their public transit experiences on Twitter using #TransitChallenge, and are inviting county residents to join them.
Settled in an interior seat of the Q2 headed to Rockville. The driver – Makita – apologized for being late, telling me that traffic along the corridor is usually pretty bad. Perhaps she was softly advocating for bus rapid transit? 🤔 #transitchallenge pic.twitter.com/7WTNg37Y8u

— Evan Glass (@EvanMGlass) June 10, 2019
Happy #moco #transitchallenge Monday. Not the easiest start as I skipped the bus to try a scooter for the first leg and that was too clever by half. In any event I am Q2 to Rockville now! pic.twitter.com/uIvAj7ZnQp

— Hans Riemer (@hansriemer) June 10, 2019
Carpooling for the first day of the #transitchallenge. Thanks to my COS, @DCCecily for picking me up! Looking forward to using other options as the week goes on! pic.twitter.com/0GkjGlNnkq

— Will Jawando (@willjawando) June 10, 2019
Happily participating in transit challenge today! Appreciate the great network of public transit options in MoCo and am committed to ensuring its reliability and expansion. #TransitChallenge pic.twitter.com/o5I5dLWFVB

— Gabe Albornoz (@albornoz_gabe) June 10, 2019
After a two block walk from the Z2 bus stop, I'm now home and happy to see these two pups. Total travel time for tonight's evening commute: 80 minutes. #transitchallenge pic.twitter.com/lxjLxtxTwp

— Evan Glass (@EvanMGlass) June 10, 2019
Made it to Rockville Metro and then made the 10-minute walk to the office. The freight train fire next door sure helps make the case for why we need more rail capacity to help @mtamaryland MARC. #TransitChallenge pic.twitter.com/tz9QlhKf6t

— Councilmember Andrew Friedson (@Andrew_Friedson) June 11, 2019
Okay back on foot and by the way super glad to see the Wayne Ave protected bike lane under construction. A few years ago I saw the chance to grab this road space after the buses moved into the transit center. Planning agreed and proposed the Silver Spring bike loop, now .5 done pic.twitter.com/IrLSPO8Fe9

— Hans Riemer (@hansriemer) June 10, 2019
Just finished my 15 minute walk to the @RideOnMCT bus on Randolph road as I head from beautiful Colesville to Rockville. #MOCO #transitchallenge @actfortransit pic.twitter.com/Y3jBamMcC7

— Will Jawando (@willjawando) June 11, 2019
#moco #transitchallenge started with a scooter ride from a point near my house and into DTSS. Now I'm waiting for the 7:58am Q2 where I'll be meeting @EvanMGlass on board! 😀 pic.twitter.com/o5ZJjxxvNI

— Hans Riemer (@hansriemer) June 11, 2019