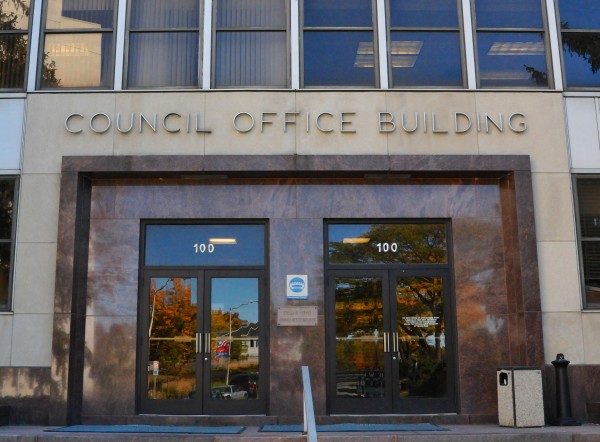 County Council Postpones Discussion on Major Renovations to Council Office Building
A discussion on a proposal that could have the county council government either moving out of its space on Maryland Avenue and into a another county-owned building in Rockville or renovate its current building was pulled from the Government Operations and Fiscal Policy committee meeting scheduled for Thursday.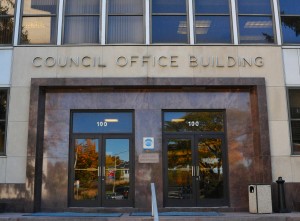 According to Adam Fogel, chief of staff for Councilmember Nancy Navarro who heads the committee, the agenda item was removed on Monday. He said Navarro requested more information on the proposals. Fogel said there is no timeline for when the proposal will be introduced to the committee.
Under discussion are two options to fix an aging heating, ventilation and air conditioning system and restrooms that are not compliant with the current ADA standards. One is to renovate the building at 100 Maryland Avenue and the other is to move the offices to the county-owned Grey Courthouse and Red Brick Courthouse after renovating space there, according to a Feb. 20 memo from Glenn Orlin, deputy council staff director. Orlin also said the Council Office and Office of Legislative Oversight housed at 100 Maryland Avenue have "far outgrown their space since it was last configured 25 years ago."
According to the memo, the Department of General Services has been working on conceptional plans for the two options.
The first option which proposes to make renovations and improvements to 100 Maryland Avenue carries an estimated $31.2 million pricetag, according to Orlin's memo. It would involve an interior renovation of the council office building, renovation of the first floor auditorium, new HVAC system and windows. Orlin's memo said the project would be completed by early 2017.
The second option, proposed by Councilmembers Hans Riemer and Tom Hucker, would be to renovate the Grey and Red Brick Courthouses located on Maryland Avenue and relocate the Council Office and OLO there. The scope of the proect would demolished most of the 1960s addition to the Grey Courthouse and build a 53-space surface parking lot there, according to the Orlin memo. It would also include the construction of an annex south of the initial 1930s wing of the Grey Courthouse to replicate the current 3rd floor hearing room.
Hucker and Riemer could not immediately be reached for comment on the proposal.
The second option has an estimated cost of $36 million, according to the Orlin memo. It could be completed by last spring of 2018. Both options are preliminary and could change in scope and timing, according to the memo.
Montgomery County's Board of Education President Patricia O'Neill told MyMcMedia Monday she would be disappointed if the county council decides to fund either county council renovation project.
"We have been struggling for many years. We have 9,300 children in portable classrooms and aging infrastructure and tremendous needs for heating and air condition and bathroom improvements and we have kids in situations that adults in the workplace would find unacceptable and as a board of education member my job is to advocate for the necessary resources for our schools," O'Neill said.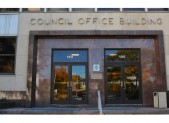 By a vote of 8-1 the Montgomery County Council on Tuesday approved a nearly $32 million project to renovate the Council Office Building in Rockville. There was no discussion on the project before the vote Tuesday after it was introduced by Councilmember Nancy Navarro, whose Government Operations Committee recommended the project be inserted into the […]
A discussion on a proposal that could have the county council government either moving out of its space on Maryland Avenue and into a another county-owned building in Rockville or renovate its current building was pulled from the Government Operations and Fiscal Policy committee meeting scheduled for Thursday. According to Adam Fogel, chief of staff […]