County Council to Vote on Zoning Rewrite in February
On Jan, 15 the Montgomery County Council completed its review on the first proposed major changes in the County Zoning Ordinance since 1978.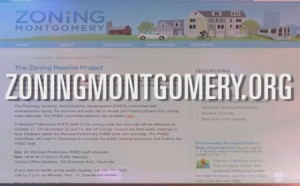 The Council took straw votes on many proposed revisions to the zoning ordinance, but they remain tentative decisions. A final vote on the Zoning Ordinance Rewrite will be held at a date to be determined in February.
The Council's Planning, Housing and Economic Development (PHED) Committee held numerous worksessions over a six-month period in 2013 on revisions that were recommended by the County's Planning Board.
The full Council held its first full-day worksession on proposed revisions on Jan. 14.
The Council held two public hearings on the proposed changes.
The recommended changes can be viewed at the Zoning Rewrite Project page.

Related posts: