County Councilmember Sidney Katz to be Inducted in Gaithersburg's Hall of Mayors on Monday Night
Montgomery County Councilmember Sidney Katz is going to be inducted into the Gaitherburg Hall of Mayors on Monday night at City Hall.
Katz began his career in public service as a member of the Gaithersburg Planning Commission from 1976 – 1978. He was then elected to City Council in 1978, and was appointed mayor of Gaithersburg in 1998, following the death of Mayor W. Edward Bohrer, Jr. He successfully ran for election several times, and served as mayor until 2014 when he was elected to serve as the District 3 County Councilmember.
"It's been an honor to have been mayor of Gaithersburg, and it's going to be an honor to hang out with the people in that hallway," said Katz. "Many of whom I knew for many years and thoroughly respected."
The hallway leading to the Council Chambers at City Hall contains portraits of those who have served Gaithersburg in the highest elected office. The earliest portrait is of Henry C. Ward, who was president of the first Board of Commisioners in 1878. The oldest Mayor portrait is of Carson Ward, who served from 1904 – 1906.
"We have most but not all mayors since," said Britta Monaco, city spokesperson.
According to Monaco, most of the portraits that are hanging in the hallway are paintings.
"Starting with Mayor Ed Bohrer, the portraits have been photographs," said Monaco.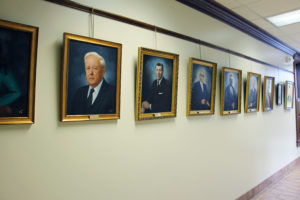 The photo of Katz that will hang in the hall was taken by photographer Clark Day.
Katz's induction into the Gaithersburg Hall of Mayors will take place during the City Council meeting. It is the third item on the agenda, under presentations.