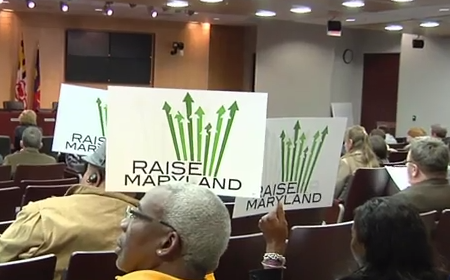 County Delegation Announces Support for Raising State Minimum Wage
All eight of the Montgomery County's senators and a majority of the delegates have signed onto a letter circulated by Raise Maryland in support of a higher State minimum wage.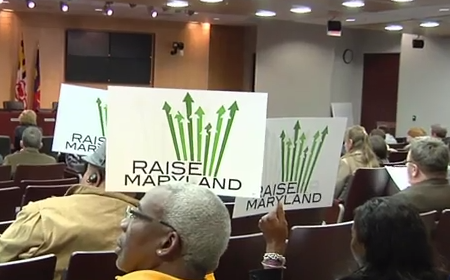 The letter calls for legislation to raise Maryland's minimum wage in three steps from to $10.10 by 2016, index the minimum wage to the cost of living, and increase the minimum wage for tipped workers from the current 50 percent to 70 percent of the prevailing wage.
"We are committed to passing a bill that will not only raise the wage but will also be indexed so that the state's minimum wage doesn't lose value over time," said Del. Anne Kaiser (D-Dist. 14), during a press conference in Kensington. "Low-paid workers in the state cannot afford to wait year after year for the legislature to drag its feet on preserving the value of their paychecks."
The press conference was attended by Sen. Jamie Raskin  (D-Dist. 20), Sen. Roger Manno (D-Dist. 19), Del. Anne R. Kaiser (D-Dist. 14), Del. Kirill Reznik (D-Dist. 39), Del. Jeffrey D. Waldstreicher (D-Dist. 18), Del. A. Shane Robinson (D-Dist. 39), Del. Susan Lee (D-Dist. 16) and Del. David Fraser-Hidalgo (D-Dist. 15), along with community activists.
"By increasing the minimum wage to $10.10 over the next few years, we will lift tens of thousands of Marylanders out of poverty," said Sen. Jamie Raskin.
"I am proud that the Montgomery Delegation has been in the forefront of so much important progressive legislation over the last several years, including marriage equality, the Dream Act, and last year's transportation package. I feel confident that, with the overwhelming support and leadership of our delegation, we can move Maryland into the ranks of states that have stopped waiting for Congress to act on this crucial issue," Raskin said.
Local officials have been encouraging the state to increase the minimum wage during the upcoming 2014 session of the Maryland General Assembly, which begins next week.
"I'm sure most of the people working at the minimum wage level in Montgomery County don't live here and that's not the intention of the county but that's the way it is," said  Del. Sheila Hixson (D-Dist. 20). "Everyone is entitled to a certain way of living. We have to step up and help."
"The current minimum wage is not a living wage by any standard and while I'm not an economist this is best way to help them rebound," said Del. Bonnie Cullison (D-Dist.19). "I think that's a reasonable amount to ask us to do."
Raise Maryland estimated that 472,000 Marylanders would benefit from the increase, paying them a collective $466 million in the next two years and create more than 4,000 new full-time jobs.
"When congressman Delaney originally came out very forcefully in favor of raising the minimum wage I immediately supported his call," said Del. Luiz Simmons (D-Dist. 17). "I think it's long overdue. A living wage is needed and it will not do damage or violence to the economy."
Montgomery and Prince George's county councils each recently passed bills raising wages in those jurisdictions to $11.50 by 2017.
"What we're trying to effect is those living in the working poor," said Del. Kirill Reznik. "People who work under the minimum wage are working multiple jobs. They are not growing up with their families and they are working very difficult, very taxing physically and we're trying to make sure that those working in Montgomery County can live here."