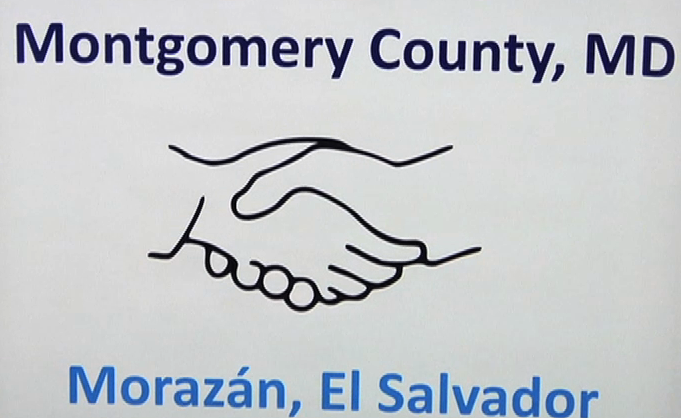 County Delegation Travels to El Salvador for "Sister City" Trip on Nov. 7 – 10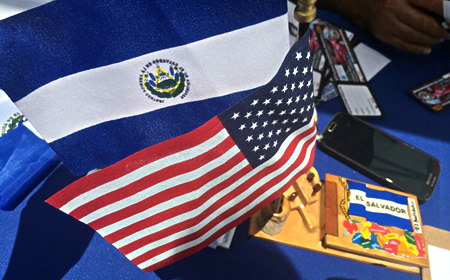 A delegation of 36 Montgomery County residents will take part on a four-day trip to El Salvador on November 7 – 10 as part of Montgomery County's continuing Sister City relationship with the Salvadoran state of Morazán. Approximately 70,000 Salvadorans live in Montgomery County, making it the largest immigrant community in the county.
The relationship was first sealed in July of 2011 when a delegation led by County Executive Ike Leggett, visited the Central American nation, signing a Sister City agreement at a ceremony attended by hundreds in San Francisco Gotera, Morazán's capital. That delegation delivered books, sports equipment, and other assistance to one of the poorest regions in the nation.Morazán was selected because many county residents had fled from there during the Salvadoran Civil War, which raged from 1979 until 1992. The effort is designed to foster cooperation between the two jurisdictions on a people-to-people basis and to support already ongoing work by Salvadorans living in the County to support development projects in their home country.
The 2015 delegation to El Salvador will include County Council President George Leventhal; Maryland State Delegate and Salvadoran-American Ana Sol Gutierrez; Rita Kranidis, Director of Montgomery College's Global Humanities Institute; Bruce Adams, Director of the Montgomery County Office of Community Partnerships; County Recreation Director Gabriel Albornoz; Silver Spring Regional Services Director Reemberto Rodriguez; Identity Executive Director Diego Uriburu; and Marla Katherine Bilonick, Executive Director of the Latino Economic Development Center, as well as representatives from Casa De Maryland and the Montgomery County Hispanic Chamber of Commerce.
The 2015 delegation has arranged a shipment of medical equipment and hospital supplies for the only hospital to serve Morazán's 175,000 residents and worked with the County government to donate 150 retired, older-model computers. The delegation has also raised nearly $12,000 in monetary contributions for the hospital.
"I want to thank Holy Cross Hospital, Kaiser Permanente, MedStar Montgomery Medical Center, and Suburban Hospital for collaborating with this mission by donating sorely-needed medical equipment and supplies and our own County Department of Technology Services for these computers," said Council President Leventhal. "This is a great example of people coming together to lend a hand to our Sister City in El Salvador. I look forward to continuing to exchange ideas and learn from folks down there and strengthen the ties we have forged."
"I especially appreciate the leadership of the Montgomery/Morazán Sister Cities Committee living right here in Montgomery County," said County Executive Ike Leggett. "Among their leaders who will make the trip are Evelyn Gonzalez, Jorge & Neftali Granados, Leda Hernandez, Paola Bichara, and Isis Salmeron."
In addition to meeting the new governor of Morazán, Luis Enrique Salamanca Martinez, and visiting the hospital and the site where Morazán's first university will be opened, the delegation will visit a Habitat for Humanity project where County volunteers are building homes and one of the schools where computers will be donated. The delegation will also go to El Mozote, the site where hundreds of civilians were killed by Army troops during the Salvadoran Civil War. In addition, the delegation will meet with Salvadoran Vice President Oscar Ortiz, the Rector of the National University, and the President of the Legislative Assembly and will be hosted for breakfast with the U.S. Ambassador to El Salvador.
Upon taking office in 2006, County Executive Ike Leggett established an Office of Community Partnerships to help ensure that Montgomery County is an open and welcoming community to all of our residents and to strengthen our ties to ethnic minorities and nonprofit and faith organizations. One of its very first initiatives was to establish a Sister City program.
Morazán, the equivalent of a state in the north-eastern part of El Salvador, was selected as the first Sister City in 2011. On September 27, 2012, County Executive Leggett signed Montgomery County's second Sister City agreement with Gondar, Ethiopia. On September 20, 2013, County Executive Leggett and Xi'an, China Mayor Dong Jun signed a Letter of Intent as a first formal step toward becoming Sister Cities. China. In 2014, the formal Sister City agreement with Xi'an was signed. And on November 14, 2014, County Executive Leggett and Hyderabad Mayor Mohammed Majid Hussain signed Montgomery County's fourth Sister City agreement in Hyderabad, India.
The El Salvador trip is sponsored by Montgomery Sister Cities, a not-for-profit organization. Council President Leventhal and all County employees are paying their own way and their own expenses.