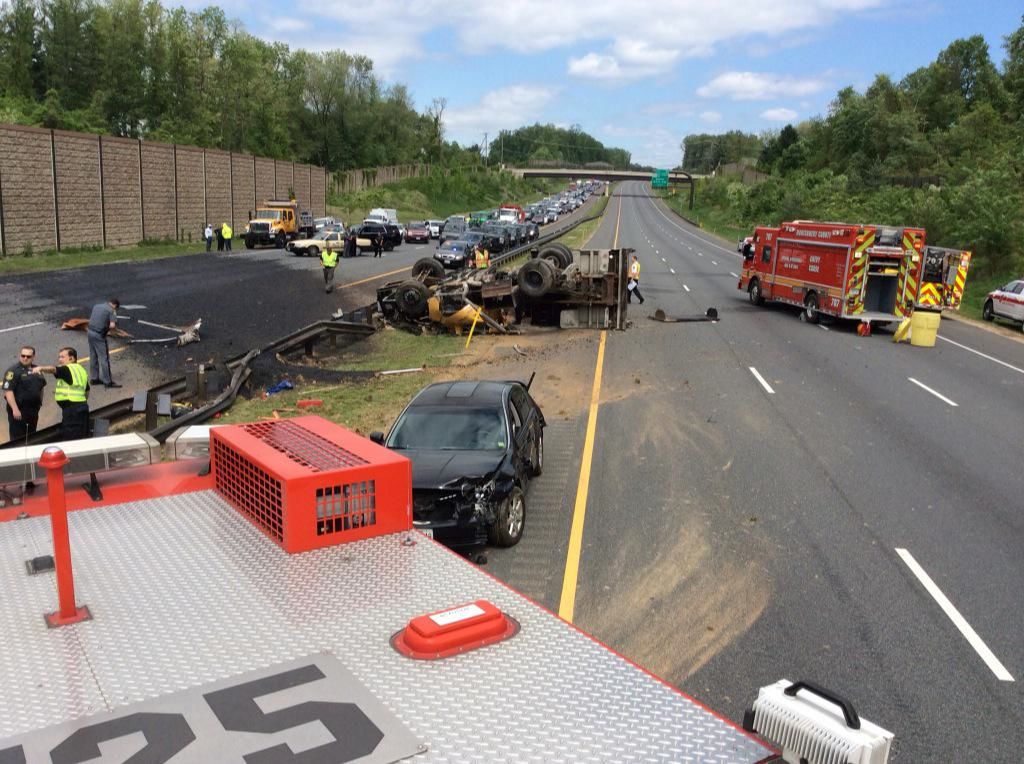 County Employee Killed in Crash on ICC (PHOTOS)
UPDATED One man was killed and another was injured in a crash on the ICC near Layhill Road on Wednesday afternoon, according to Maryland Authority Transportation Police.
Montgomery County officials said the driver of a MCDOT vehicle was fatally injured in this collision.
In a statement, Montgomery County Executive Isiah Leggett identified the county employee as Leo Brooks.
"I am deeply saddened by the tragic accident that took the life of Highway Services Employee Leo Brooks. My deepest condolences go out to his family, friends, and colleagues. Montgomery County Department of Transportation (MCDOT) is a big family, and all of us are personally affected by the loss of one of our own," Leggett said.
"MCDOT's employees do their very best for our County residents," Leggett said. "It is a very sad day when one of our dedicated staff loses his or her life on the job. "I also hope that the driver of the other vehicle involved in this terrible collision makes a speedy and full recovery."
In a statement to his staff, Al Roshdieh, the acting director of MCDOT, said Brooks was an equipment operator with Highway Services at the Colesville Depot.  Roshdieh said Brooks worked for MCDOT for more than 15 years.
"While driving an MCDOT truck on May 13, Mr. Brooks was involved in a fatal collision," Roshdieh said in the statement to staff. "We are all saddened by his passing and I want to offer my deepest sympathies to his family, friends and colleagues. To support those of you in the Colesville Depot, we will have grief counselors available. Our MCDOT family is comprised of caring and compassionate staff who are dedicated to their jobs, to each other and to serving the residents of Montgomery County. I appreciate everything you do day in and day out. I join you in mourning the loss of Mr. Brooks."
The Maryland Transportation Authority Police (MTAP) Department is investigating the crash.
MTAP First Sergeant Jonathan Green said this is the first fatal accident on the ICC since the roadway opened in 2011.
Update – EB MD200 ICC near Layhill Rd, overturned vehicle, serious injuries, victim pinned under vehicle, some lanes BLOCKED

— Pete Piringer (@mcfrsPIO) May 13, 2015
Update – ICC EB near New Hampshire Av, 2 transports, 1 adult male, Pri 1, trauma code; 1 adult male Pri3, NLT pic.twitter.com/Y57Ft2ZeB5 — Pete Piringer (@mcfrsPIO) May 13, 2015
We are aware of the incident involving a county vehicle on the #ICC. We're working with first responders on an investigation into the cause.

— MC Highway Services (@MontCo_Highways) May 13, 2015