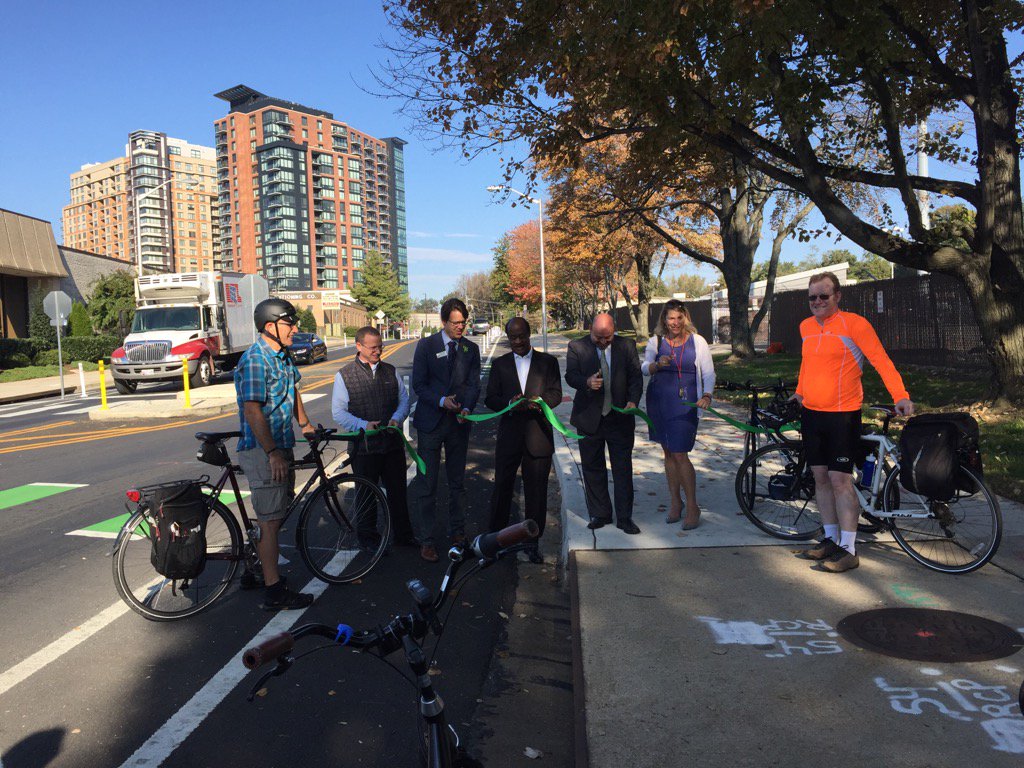 County Executive Announces New Bike Lanes in Pike District (VIDEO & PHOTOS)
The Pike District now has one-half mile of separated bike lanes located on both sides of Nebel Street between Randolph Road and Marinelli Road in Rockville.
Montgomery County Executive Ike Leggett along with local officials announced the completion of the bike lanes today at a ribbon cutting event.
"The Pike District is in the process of transforming itself into a walkable, bikeable, transit-oriented community and the completion of the Nebel Street protected bike lane is one more step towards this goal," Leggett said. "Creating a smart-growth community in the Pike District means more economic opportunities, more jobs and a better environment. It means making Montgomery County more competitive and brings greater prosperity and a stronger sense of community to this area," he said.
According to a news release, the bike lanes are one-way,  six-feet-wide and are located against the curb on either side of Nebel street, separating cyclists from moving vehicles. There is also a stripped buffer area to provide cyclists extra protection. Parking on the westside of Nebel Street was relocated to the east side.
An additional lane is expected to be completed on Marinelli Road, that would create a continuous protected bike lane connection from Montrose Parkway along Nebel Street to White Flint Metro Station.
We declare the Nebel Street separated bike lanes officially open! pic.twitter.com/ZxdCQfpiaJ

— MC_DTE (@MoCo_DTE) October 17, 2016
CE Leggett thanked MCDOT for helping to create a more walkable, bikeable, transit oriented community pic.twitter.com/ZeG7xC2NMh

— MCDOT (@MCDOTNow) October 17, 2016
MCDOT Director Al Roshdieh is kicking off event with CE Leggett and CC member Hans Riemer pic.twitter.com/Y2DCgPvlT0

— MCDOT (@MCDOTNow) October 17, 2016
Starting the ribbon cutting ceremony for the Nebel Street protected bike lane pic.twitter.com/x4OezmBSwb

— MCDOT (@MCDOTNow) October 17, 2016
We're rolling out the green carpet for cyclists on Nebel Street. pic.twitter.com/VMaAKgoIPY

— MC_DTE (@MoCo_DTE) October 17, 2016