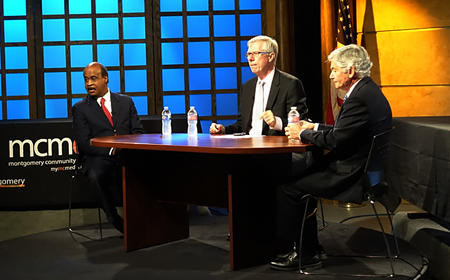 County Executive Candidates Forum Inside MCM's Studios (VIDEO)
Incumbent County Executive Ike Leggett, a democrat, and attorney Jim Shalleck, a republican, discussed the issues in a forum Oct. 13 inside MCM's studios.
The forum was hosted by Montgomery Community Media and the League of Women Voters.
Watch the forum in its entirety here:

The candidates forum was one hour, with one minute opening statements and closing statements of two minutes. The League of Women Voters prepared the questions.
The forum was moderated by Don Mooers, the host of Montgomery Week in Review.
The forum was streamed live on the MyMCMedia.org website and will be broadcast on Access 19 and Montgomery Channel 21 later in the week.
The general election is set for Nov. 4.