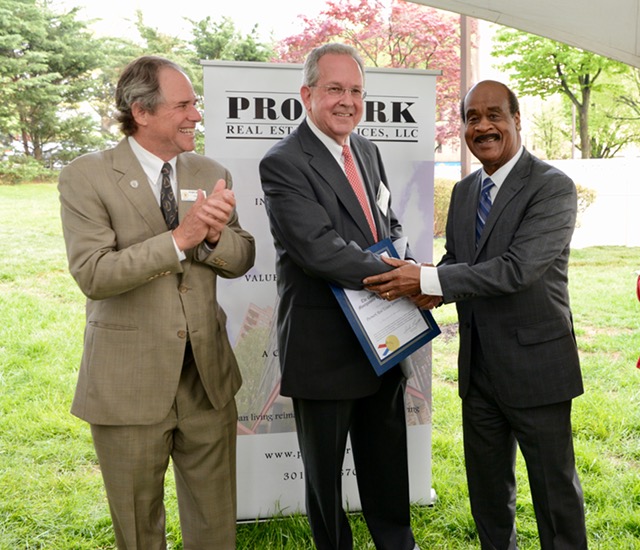 County Financing Program Helps Companies Pay for Energy Efficiency Upgrades (VIDEO)
County officials touted a new program Thursday that lets companies pay for projects that energy efficiency to their buildings by adding the costs over 20 years to their property tax bills.
The first such project had a "green" ribbon cutting at the Comfort Inn Shady Grove in Gaithersburg and the next-door Shady Grove Professional Building.
The project involved $1.4 million in heating and air conditioning upgrades, new lighting and heat pumps, and new digital controls.
The program is called C-PACE for commercial property assessed clean energy. And it was an important reason that ProMark Real Estate LLC, which owns the buildings went ahead with the project, said Rob Eisinger, ProMark's principal and managing member.
"We believe that the PACE program affords a tremendous opportunity to older properties to retrofit to current energy standards. In fact, we probably wouldn't have done it if it hadn't been for the PACE program," Eisinger said.
The buildings will save $156,000 a year in energy costs but the project will pay out $125,000 a year to pay off the loan, said Keith Derrington, chief operating officer for Recurrent LLC, the project developer on the construction.
County Council President Roger Berliner introduced legislation creating the program in 2013.
"This is a county program that costs the county nothing other than using its tax rolls to recover loans made by private parties," Berliner said. "So you have incredibly inexpensive financing tools available to save energy, reduce greenhouse gas emission and to create economic opportunities in terms of jobs, so you have jobs, return on investment and good environment. What's not to like about that?"