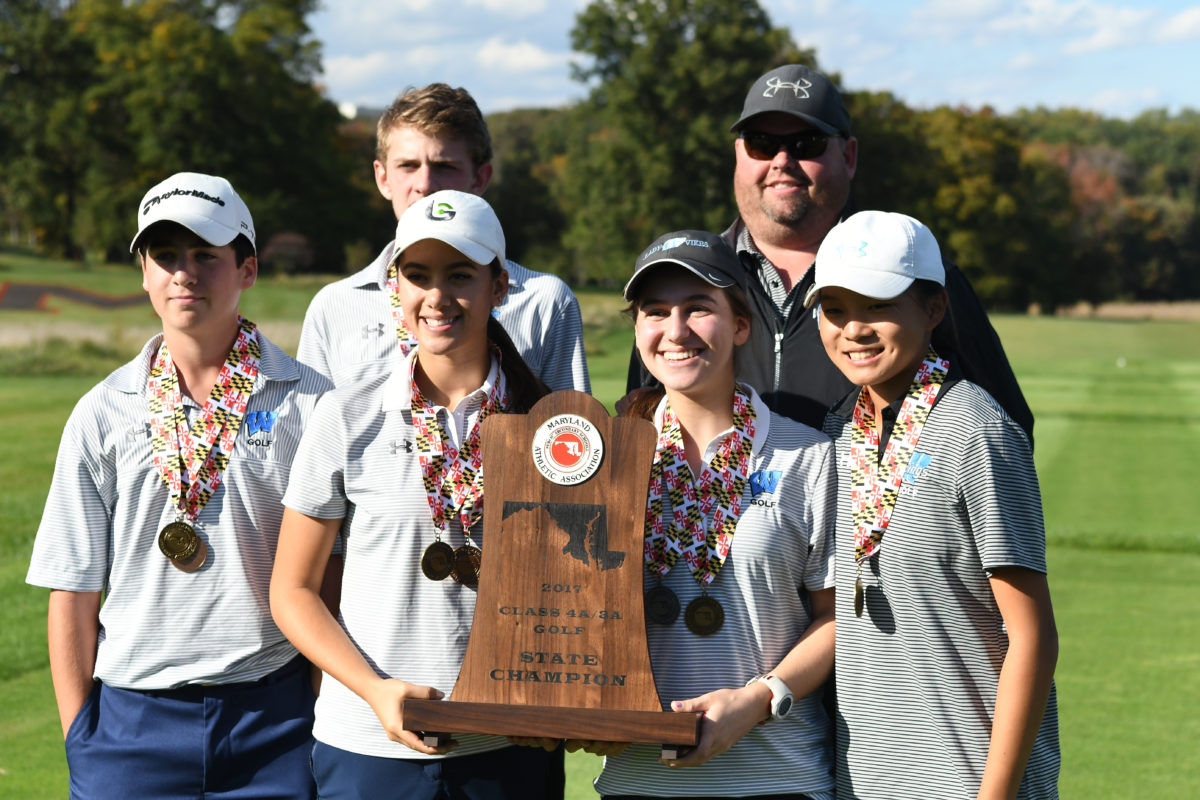 County Golf Stars at State Championship (PHOTOS)
Montgomery County High Schools in the 3A/4A division took many top honors this week in the MPSSAA State Golf Championship. Over the period of three days the University of Maryland Golf Course hosted the state championship with the 3A/4A playing on Monday, 1A/2A playing on Tuesday and the top low score finishers all competing on Wednesday. Four county high schools, Whitman, Churchill, Sherwood and Wootton competed among the six teams in the 3A/4A for the team championship.
Individual leaders among the boys varied slightly during the match with leader positions switching between Dylan Rotter (Churchill), Brad Riley (Sherwood), Elliott Haas (Urbana) and Joe Griffin (Walter Johnson). Rotter and Riley traded places throughout the day and as both headed towards the 18th fairway they were tied at 1 over. Rotter hit his second shot from the 18th fairway long over the green as Riley settled about 15 feet from the pin on the green. Rotter could not get up and down to save the match as Riley sunk a birdie to claim the championship gold. For the two day tournament Riley had a 145 to Rotter's 147 winning the championship on the 18th.
MoCo girls finished out of the top medal standing as Bailey Davis of North Point took the championship and Faith McIlvain became the state finalist runner up. Alyssa Cong of Richard Montgomery finished a distant 3rd eight strokes back of the champ.
In team play Whitman's top four finished with the lowest net score taking the State Championship. Churchill was the state finalist.
Photo coverage of Wednesday's event was provided by the team of Phil Fabrizio and Daryl Schultz and photos of most of Montgomery County's 28 up and coming golfers can be seen at this website link Championship Golf.
Photos to follow all copyrighted.
Phil Fabrizio
Photoloaf
Daryl Schultz
Baycountry