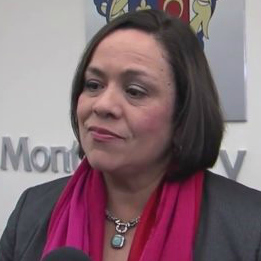 County Health Department to Assist Families Facing Deportation
The Montgomery County Department of Health and Human Services will provide support services to families who have a family member facing deportation, according to participants in a closed meeting Tuesday of county officials.
Councilmember Nancy Navarro said the HHS presentation contained "well thought-out protocols," which would include, for example, establishing shelters for children who may be left behind if their parents are captured by U.S. Immigration and Customs Enforcement agents.
"It's just a way for us to prepare practically to provide as much stability out there. Telling people to go about their business, continue on even though we can't guarantee anything, we're prepared to respond," Navarro said.
The meeting took place inside a Council Office Building conference room. Attendants included County Executive Ike Leggett, Police Chief Tom Manger, School Superintendent Jack Smith, HHS Director Uma Ahluwalia and four councilmembers. In addition to Navarro, also attending were Councilmembers George Leventhal, Marc Elrich and Council President Roger Berliner.
With only four councilmembers, the meeting lacked a quorum and the provisions of the Maryland Open Meetings Act didn't apply.
"We felt this was an internal conversation," Berliner said. "We wanted to have a candid exchange. We did not feel that our purposes would be well served in the public realm."
He continued: "We were in strict compliance with all laws."
Smith supplied the group with a memo he sent to principals dated Feb. 23. The four-page memo included three principles:
MCPS will continue to follow established procedures to ensure that our schools are safe places for all of our students to learn, regardless of immigration status;
MCPS staff should not take any actions that may discourage the participation, or lead to the exclusion, of students based on immigration status; and
MCPS has received no indication that there have been or will be immigration actions in schools or on school property.
In addition to the HHS presentation, the Community Foundation of Montgomery County is establishing a fund to provide the "philanthropic community" a means to help those in need, Berliner said. Navarro said there could be an announcement as early as this week. The Community Foundation did not return a phone call seeking comment.
Immigration has dominated council discussions in the past several days. On Sunday, Trump administration orders on deportations were a major topic at the People's Town Hall event in Silver Spring, which drew state and county politicians, including council members. On Monday, the council approved a series of amendments to the Maryland Law Enforcement and Governmental Trust Act, which supporters believe will restore trust in police by clarifying what local law enforcement can do in federal immigration cases.
Berliner was in Annapolis on Tuesday to testify in favor of amendments to the bill that would make state limits similar to the county's, where local officers do not assist ICE agents.