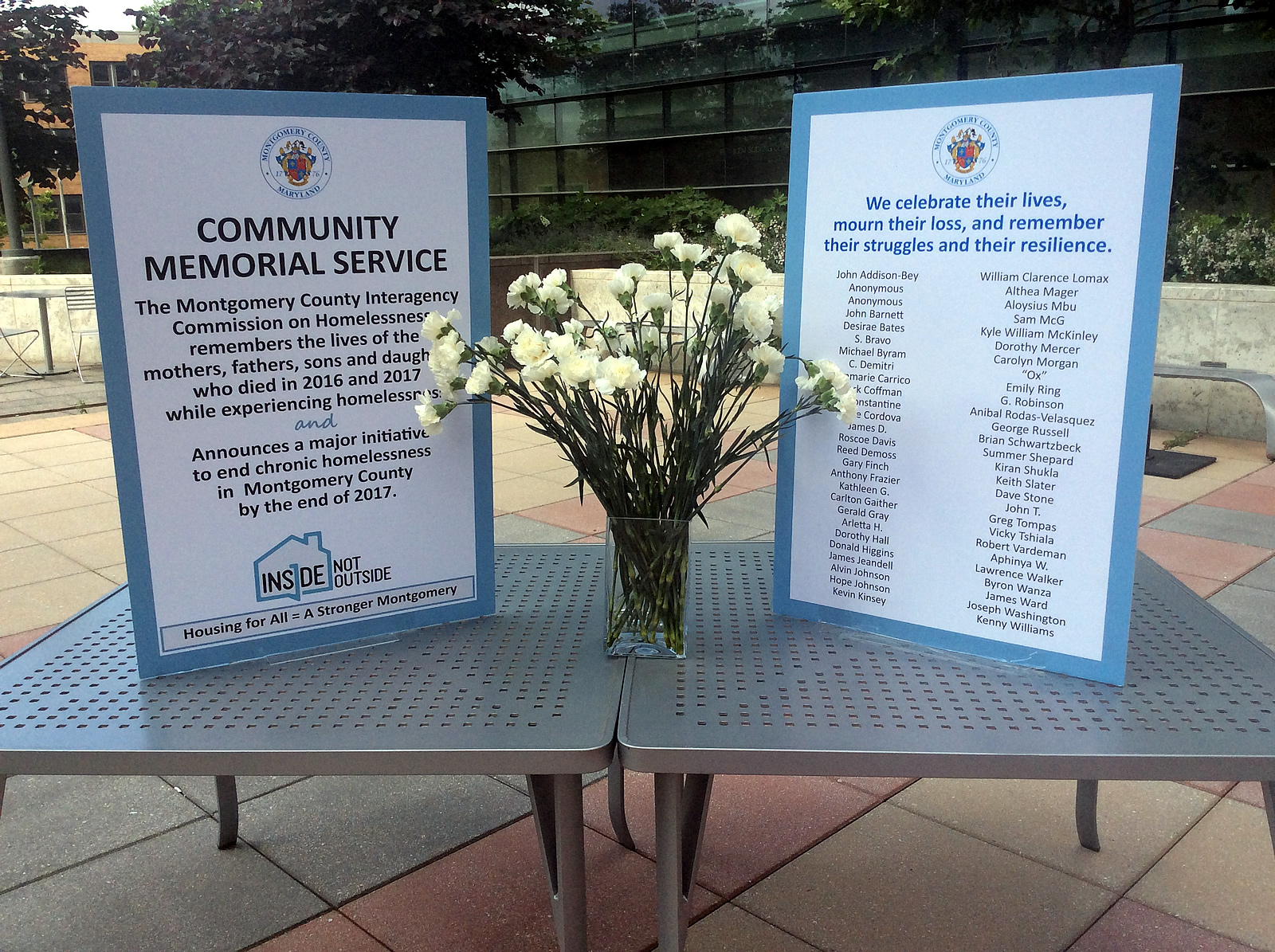 County Launches New Initiative to Combat Chronic Homelessness (VIDEO)
Dozens of county leaders and residents gathered in Rockville early Wednesday for a special memorial service to remember the 61 individuals who died as a result of homelessness in 2016 and 2017.
"Research tells us that people experiencing homelessness have a life expectancy 30 years less than non-homeless Americans," Amanda Harris, chief of special needs housing for the Montgomery County Department of Health and Human Services said. "Individuals experiencing homelessness die between the ages of 40 and 50. This is the same life expectancy of those living in the 1900's."
Following the commemoration service, Montgomery County leaders announced a new initiative to end chronic homelessness.
"Chronic homelessness is described as an individual who has been without housing for a year or more, has had multiple episodes of homelessness adding up to a year or more, or has a chronic disability," Montgomery County Councilmember George Leventhal said.
With more than 200 individuals living in Montgomery County who are chronically homeless, Leventhal, who chairs the county's Health and Human Services Committee, and Chuck Short, special assistant to the County Executive, announced a new initiative to help end homelessness titled, "Inside Not Outside."
"The goal is to house every identified chronically homeless person in Montgomery County," Leventhal said. "Research has shown that housing the homeless cost us less as a society than having them sleep on the rough outside in the streets, in the woods or in their cars."
The County's Interagency Commission on Ending Homelessness will lead the efforts of the new campaign. More information about services for the homeless can be found by clicking here.
In just a few moments Montgomery County Executive Ike Leggett will host a memorial service for homeless individuals who died. @mymcmedia pic.twitter.com/a4o4W96HxC

— Mitti Hicks (@MittiMegan) June 7, 2017
Here's a list of some of the speakers today. @mymcmedia pic.twitter.com/st7lJemO5f

— Mitti Hicks (@MittiMegan) June 7, 2017
And here's a list of those who will be remembered today. @mymcmedia pic.twitter.com/YVNKrecQEn

— Mitti Hicks (@MittiMegan) June 7, 2017
Homeless people have a life expectancy 30 years less than those who are not, according to Amanda Harris from the @MoCoDHHS @mymcmedia pic.twitter.com/qpmq6tW7qs

— Mitti Hicks (@MittiMegan) June 7, 2017
Happening now: naming the 61 individuals who lost their lives due to homelessness @mymcmedia pic.twitter.com/vC6Y8e9V63

— Mitti Hicks (@MittiMegan) June 7, 2017