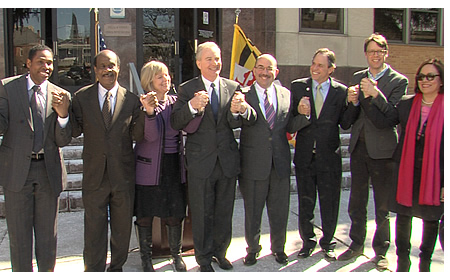 County Leaders Endorse Congressman Chris Van Hollen for U.S. Senate (PHOTOS & VIDEO)
Montgomery County Executive Isiah Leggett and the Montgomery County Council are united in their support for U.S. Rep. Chris Van Hollen's bid to become a U.S. Senator. At an endorsement rally on March 9 at the steps of the Council Office Building, the elected leaders expressed their support for Van Hollen's candidacy.
You may recall that U.S. Senator Barbara Mikulski, the longest serving woman in Congress, announced last week she would be retiring when her current term expires in 2016. Van Hollen, a democrat who represents the 8th Congressional District in Maryland, say he intends to run for her seat.
Related: