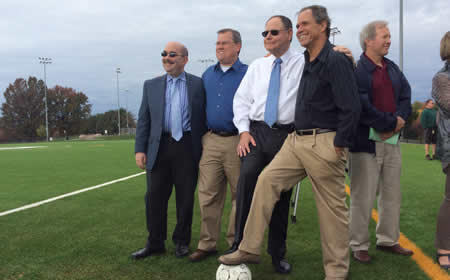 County Looks at Organic Option For Turf Fields (PHOTOS & VIDEO)
Montgomery County officials kicked around a soccer ball on the Lakelands Park organic turf field Wednesday as they kicked around the idea of using organic infill in future turf field projects.
The City of Gaithersburg recently opened the field off Main Street, the first organic turf field of its kind in Montgomery County. And now the county is considering using organic infill instead of the traditional crumb rubber in its projects.
The county has seven synthetic turf fields with all but one using the rubber as infill on the artificial turf. One field uses Nike Grind, an infill product made by recycling athletic shoes, according to Mike Riley, director of parks for M-NCPPC.
Councilmember Roger Berliner told MyMCMedia Wednesday that he plans to request projects move to an organic option.
"We are standing on the future," Berliner said while checking out the turf field. "There appears to be no downside."
Council Vice President George Leventhal said he too was interested in exploring the option of going organic on the county's turf fields. He cited health concerns, the environment and the durabillty of the field as reasons to consider the product.