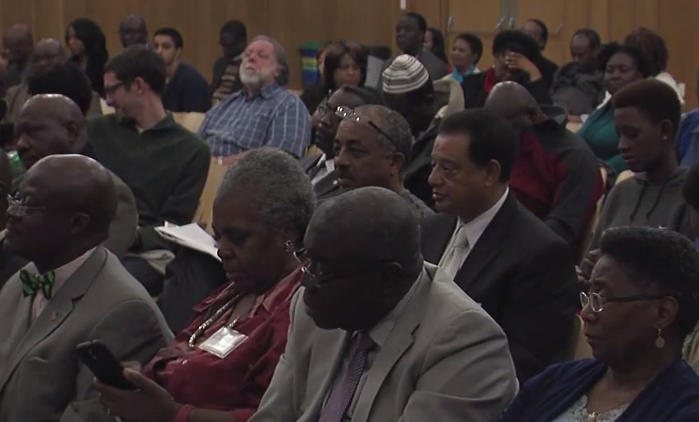 County Officials Advise Those Planning to Travel to West Africa This Holiday Season (VIDEO)
Members of the African Affairs Advisory Group and the Coalition Against Ebola hosted the Ebola: Get Informed, Get Involved town hall meeting on Nov. 25 in Silver Spring to educate attendees about the current Ebola outbreak situation. Aline Barros reports.
"If you're going to return to either Liberia or Sierra Leone, Guinea or now even Mali that you need to be aware that you don't want to come in contact with somebody that is visibly sick. … They [travelers] need to be aware when they come back they will have to be actively monitored for twenty one days," said Dr. Ulder J. Tillman, Montgomery County Health Officer.
County officials said there are no restrictions for people to travel to countries impacted by the Ebola virus. Family members, however, are saying "Don't come."
"Now, what we've seen though is many family members who are waiting to travel, when they call their family members in these affected countries they're saying 'Don't come. Just send the resources so that we can take care of ourselves."
According to statistics shared during the event, as of November 11 more than 14,000 have been sickened with Ebola in Guinea, Liberia, and Sierra. Of those, 5,165 have died.
Bernice North, a Silver Spring resident and chair of the Silver Spring Advisory board, said she has relatives working in the medical field in West Africa, and agrees that community outreach and awareness is still necessary.
"So, it's important to continue the conversation to educate ourselves. Not everyone is from Guinea, Liberia, or other countries affected by Ebola," North said.
On Nov. 19, residents gathered for an interfaith prayer service for Ebola relief in Silver Spring. During the meeting, a county official said the state has been monitoring all travelers who left West Africa in the past few months as part of an Ebola prevention efforts. As of November, state health officials are currently monitoring 113 travelers, but none are from Montgomery County.
At the Centers For Disease Control Website, travelers can find travel guidelines on each of the countries affected by the virus.
Click here to find out more information about Ebola.