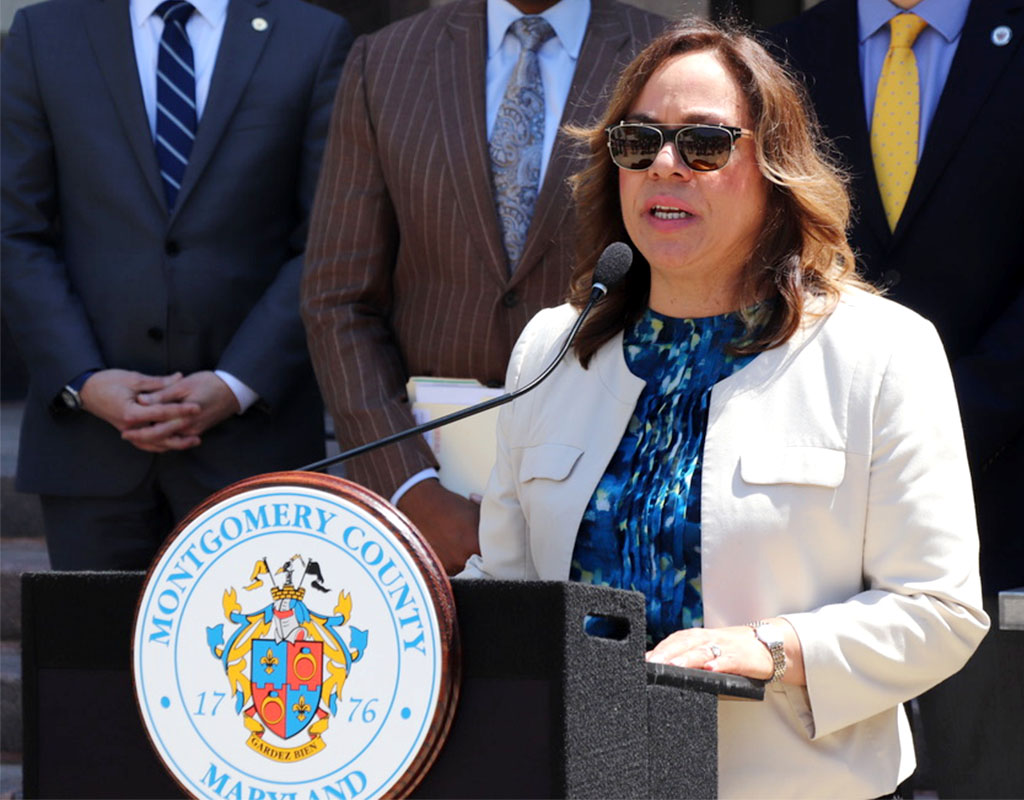 County Officials Comment on Officer Facing Assault Charges
Navarro Releases Statement on Officer's Assault Charges
Montgomery County Council President Nancy Navarro released a statement Tuesday after the news that Police Officer III Kevin Moris faces second-degree assault charges.
"Today is a somber and introspective one for Montgomery County because the overall reputation of our police department has been impacted by the excessive use of force by one police officer. It is important to reiterate that the Montgomery County Police Department is made up of men and women of integrity who pride themselves on high standards as they keep our County safe; however, effective accountability and oversight are essential to develop and maintain trust between the police and our community.

The Council appreciates Acting Police Chief Marcus Jones' prompt investigation of this arrest and the swift action by State's Attorney John McCarthy to bring charges against Officer Moris. Today's charges reinforce the message that the excessive use of force will not be tolerated in our County.

Our work doesn't stop with these charges. Acting Chief Jones will brief the Council on July 23 about strategies for community-police relations including de-escalation and other police training necessary to make our County a safe place for all our residents. We also will continue to monitor this case and will review the outcome once it's complete.

In addition, the Council is part of the process for the appointment of a new police chief. We pledge to support the incoming chief and our community leaders in making our residents' mandate for a safe Montgomery County, where every police officer treats all residents with respect and care regardless of their race, ethnicity, gender, sexuality and class, a reality. The police chief will work with us to support a highly respected police team to be more culturally proficient and to carry out its duties and responsibilities to our community with respect, compassion and a deep sensitivity to its sacred obligation to protect every resident of our great County."
In the statement, Navarro said that Acting Police Chief Marcus Jones will brief the council community-police relations on July 23.
Jawando Releases Statement on Officer's Assault Charges
Councilmember Will Jawando, who told MyMCMedia on Monday that he was disheartened by the video showing the officer using force, also released a statement about the charges.
"We learned today that the officer involved in the Aspen Hill McDonalds's incident brought to light late last week after a cell phone video was posted on social media has been charged with second-degree assault and misconduct. It is my understanding that Officer Moris has been suspended pending the criminal investigation.

I think it is appropriate that charges were brought and believe this type of behavior cannot be tolerated. I am glad the Montgomery County Police Department (MCPD) took the step to request the State's Attorney review the video and open an internal investigation. While this was caught on video by a bystander, I have also heard from individuals who have had previous interactions with this officer and had reported their concerns to MCPD prior to the incident last week and as early as January 2018.

While this was an individual officer that acted inappropriately, I think that we need to discuss the fact that the rest of the officers present did not stop this behavior. In addition, if concerns had been brought about this specific officer over time, why did the department allow this officer to continue to interact with our residents? These are some questions that I think should be answered.

It was horrifying to watch the actions of the officer in the video. With the pending charges, I hope this will send a message that no one is above the law. It is not appropriate for any officer to use excessive force when interacting with an individual, especially if that individual is restrained in handcuffs. I support holding officers accountable for any misdeeds and hope this will be the trend moving forward – swift and immediate investigation and action taken to address such an issue.

Our community counts on us as elected officials and law enforcement to protect them and protect their rights. The community rightfully expects to trust us to do the right thing by them. That was the whole point of the LETT Act and with the current introduction of Bill 14-19, the Police Advisory Commission. We live in a great County, but we are not immune to the issues that plague our nation, as evidenced by the events of the last several months. However, if we focus on community policing and push for accountability and promote community trust, our diverse County will be even better and stronger as we move forward."
Previous Post