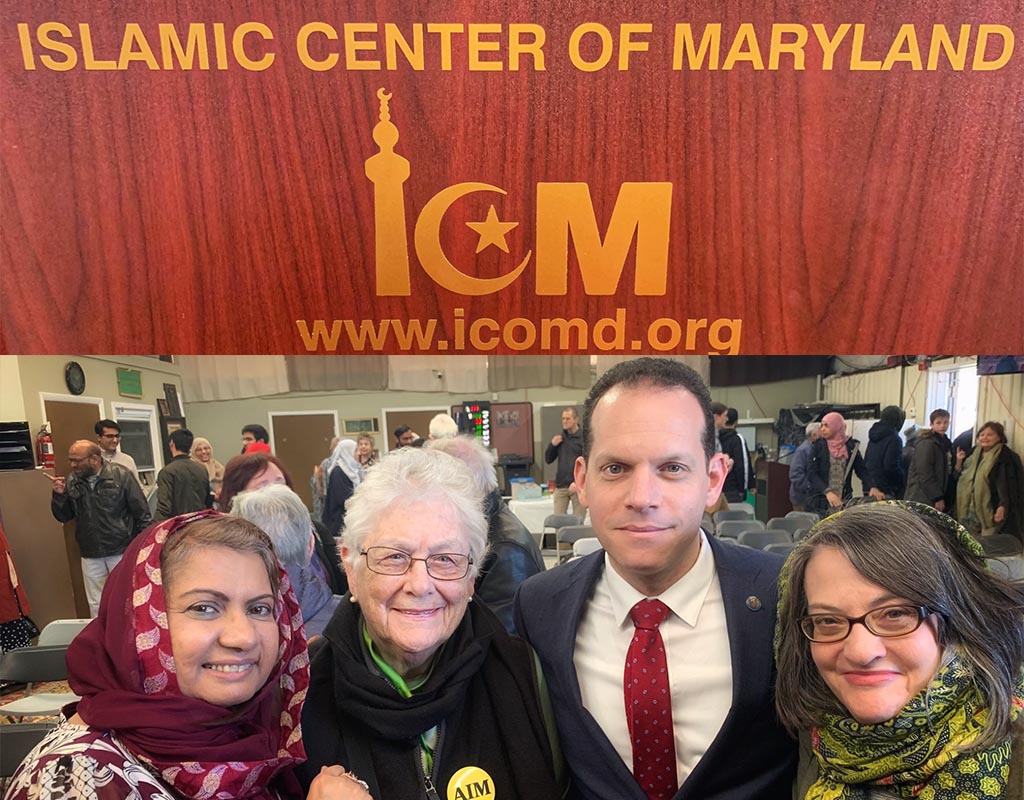 County Officials, Faith Leaders Attend Interfaith Event at Gaithersburg Mosque
Montgomery County Councilmembers, County Executive Marc Elrich, and faith leaders showed support for the Muslim community Sunday by attending an interfaith event at the Islamic Center of Maryland in Gaithersburg.
According to Councilmember Evan Glass, over "two dozen religious institutions" came to this interfaith event to show support for the Muslim community, days after the attack on two Mosques in New Zealand. According to CNN, so far 50 people have died as a result of the massacre.
Nadeem Ahmad, the chairman of the Islamic Center of Maryland's Board of Trustees, told WUSA9 that the bridges built can help fight the "philosophy of hate and race-based violence.
WUSA9 also spoke to Rabbi Charles Arian of Kehilat Shalom in Montgomery Village.
According to WUSA9, "Arian said his synagogue has a partnership with the Islamic Center of Germantown. When a gunman attacked a synagogue in Pittsburgh in October 2018 and killed 11 people, Arian said the first person he heard from was his Muslim counterpart."
Many of the councilmembers took to social media with their statements about the interfaith event in Gaithersburg.
Glass posted on Instagram: "There are too many hate-motivated acts happening in the United States and around the world, which is why we in Montgomery County have to work extra hard and wrap our arms around each other to protect our beautiful diversity. Hate has no home here."
Councilmember Will Jawando tweeted, "We gathered today in love & solidarity as a broader community, as elected leaders, faith leaders, residents to mourn the loss of our brothers & sisters in New Zealand & recommit ourselves to standing up to hatred & the disease of white supremacy permeating our world."
Check out WUSA9's coverage of the event in the video above.
Tweets and Photos from Event
Spent the afternoon at Islamic Center of Maryland w/community members and leaders. We gathered in love, prayers and solidarity with our Muslim community to comfort each other over the needless and horrific deaths in New Zealand. Thank you to all who organized this moving event. pic.twitter.com/zCq7VSnCA0

— Kate Stewart (@KateforTakoma) March 17, 2019
"Love, Prayers, Solidarity" at the Islamic Center of Maryland in Gaithersburg today showed the strength of community. Over 30 faith leaders from different religions and @MoCoCouncilMD were there to support our Muslim neighbors. @MomsDemand #Christchurch pic.twitter.com/KWpDqjEVOz

— Elaine Arndt (@naineea) March 17, 2019
Today I visited the Islamic Center of Maryland in Gaithersburg along with County Executive Marc Elrich, and several other Council members to show support for our Muslim community and comfort each other over the deaths of Muslims in New Zealand. #Love #Prayers #Solidarity pic.twitter.com/SiVZ309jIv

— Nancy Navarro (@nancy_navarro) March 17, 2019
I attended the beautiful service at the Islamic Center of Maryland this afternoon. The standing room only congregation came together under the theme of Love, Prayers & Solidarity. There were many faith based leaders who shared heartfelt remarks @LaurieASayles @Marc_Elrich pic.twitter.com/l3Q5w7vFgs

— Lisa Fuller (@MoCoWomen1) March 17, 2019
Today more than two dozen religious institutions came together to express love and support for the Muslim community.

We in Montgomery County have to work extra hard and wrap our arms around each other to protect our beautiful diversity.

Hate has no home here. pic.twitter.com/NFzxoVFPt4

— Evan Glass (@EvanMGlass) March 17, 2019
At the Islamic Center in Maryland for an afternoon of solidarity. It is an event to reject hate and affirm compassion. @EvanMGlass #Solidarity pic.twitter.com/hxa8ioGnOn

— Sidney Katz (@MC_Council_Katz) March 17, 2019
We gathered today in love & solidarity as a broader community, as elected leaders, faith leaders, residents to mourn the loss of our brothers & sisters in New Zealand & recommit ourselves to standing up to hatred & the disease of white supremacy permeating our world. #NewZealand pic.twitter.com/SaMDNrJ77o

— Will Jawando (@willjawando) March 17, 2019
Members of the Montgomery County Council are here at the Islamic Center of Maryland in support of the Muslim community and all faith communities. County Executive Marc Elrich speaking now. @wusa9 pic.twitter.com/tXGyY3tpFA

— Liz Palka (@lizpalka) March 17, 2019
The room here at the Islamic Center of MD is overflowing with people here to support. Many members of the Jewish community are here saying their Muslim neighbors were the first to show up for them when the Pittsburgh massacre happened. @wusa9 pic.twitter.com/wqmJiMLtmr

— Liz Palka (@lizpalka) March 17, 2019
1/ Packed room for Interfaith Service at Islamic Center of Maryland. "We are all son's and daughters of Adam and Eve. We cannot let hate separate us." #Christchurch #StopHate pic.twitter.com/juoU9nGwEG

— Franca Brilliant (@FrancaBrilliant) March 17, 2019
2/MoCo County Exec Marc Elrich "We stand with you. Our Administration will do everything it can to keep you safe." @MontgomeryCoMD #ChristchurchMosqueAttack

— Franca Brilliant (@FrancaBrilliant) March 17, 2019
3/"We are grateful for the support we have received and hope this is the beginning of many new relationships that will go on for a long time." #WeStandTogether pic.twitter.com/nbqRcABJZg

— Franca Brilliant (@FrancaBrilliant) March 17, 2019
4/Thank you to the Islamic Center of Maryland for hosting a service where we could come together in grief and solidarity.

— Franca Brilliant (@FrancaBrilliant) March 17, 2019