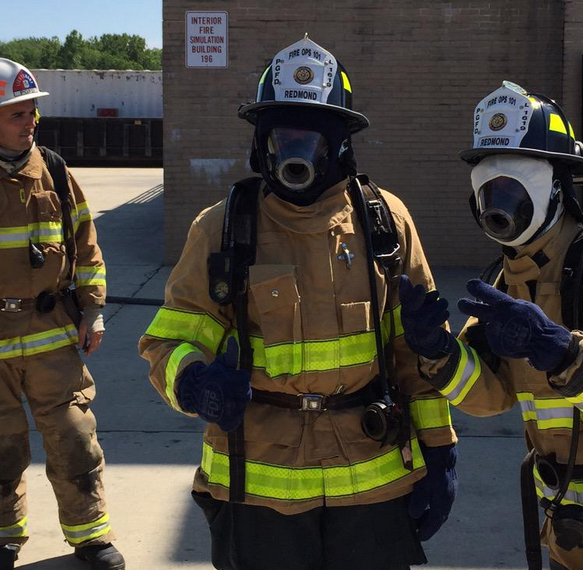 County Officials Get Hands On Experience During Fire Operation Exercises (PHOTOS)
Montgomery County Councilmembers Craig Rice and Marc Elrich are participating at the Fire Ops 101 today at the University of Maryland in College Park.
The Fire Ops 101 is a preconference event part of the IAFF Firefighters John P. Redmond Symposium. The conference is scheduled to take place on Aug. 25 to Aug. 28 at the Gaylord National Resort and Convention Center in Prince George's County.
Both councilmembers had a chance to have hands-on experience on several fire exercises. Besides Rice and Elrich, Congressman Chris Van Hollen is also participating at Fire Ops 101.
Pete Piringer, Montgomery County Fire and Rescue Services spokesperson, said symposium organizers invite legislators to experience many aspects of the fire department.
According to a description of the symposium's agenda, Fire Ops 101 gives "decision makers a greater understanding and appreciation of what it is to be a firefighter and the importance of providing first responders with the training, equipment and other resources needed to do the job [safely] and effectively."
Piringer said fire officials talk about health and safety issues at the conference.
He also said Montgomery County is scheduled to host a similar event in October.
County council members Rice and Elrich prepare to "feel the heat" at #fireops101 @mcfrsPIO pic.twitter.com/qBuOv1VlFR

— IAFF Local 1664 (@IAFFLocal1664) August 25, 2015
Public safety committee chair Elrich takes "pointers" from President Buddle #fireops101 @mcfrsPIO pic.twitter.com/AuKhXEMR4C

— IAFF Local 1664 (@IAFFLocal1664) August 25, 2015
MT – MoCo Councilman Rice gets 1st hand experience w/ auto extrication during FireOps101 @RicePolitics @IAFFLocal1664 pic.twitter.com/FGBR1tfMCC

— Pete Piringer (@mcfrsPIO) August 25, 2015
County Councilman Rice is ready for live fire! #fireops101 @RicePolitics @mcfrsPIO @iaff1664pres pic.twitter.com/S62OO20WYV

— IAFF Local 1664 (@IAFFLocal1664) August 25, 2015
All geared up! Public safety chair Elrich ready to "feel the heat" #fireops101 @mcfrsPIO @iaff1664pres @RicePolitics pic.twitter.com/RByR8x2CYS

— IAFF Local 1664 (@IAFFLocal1664) August 25, 2015
MoCo @MontgomeryCoMD Md Congressman VanHollen & Council members Rice & Elrich participate in FireOps101 at U of Md pic.twitter.com/vy1GLWLZxl

— Pete Piringer (@mcfrsPIO) August 25, 2015