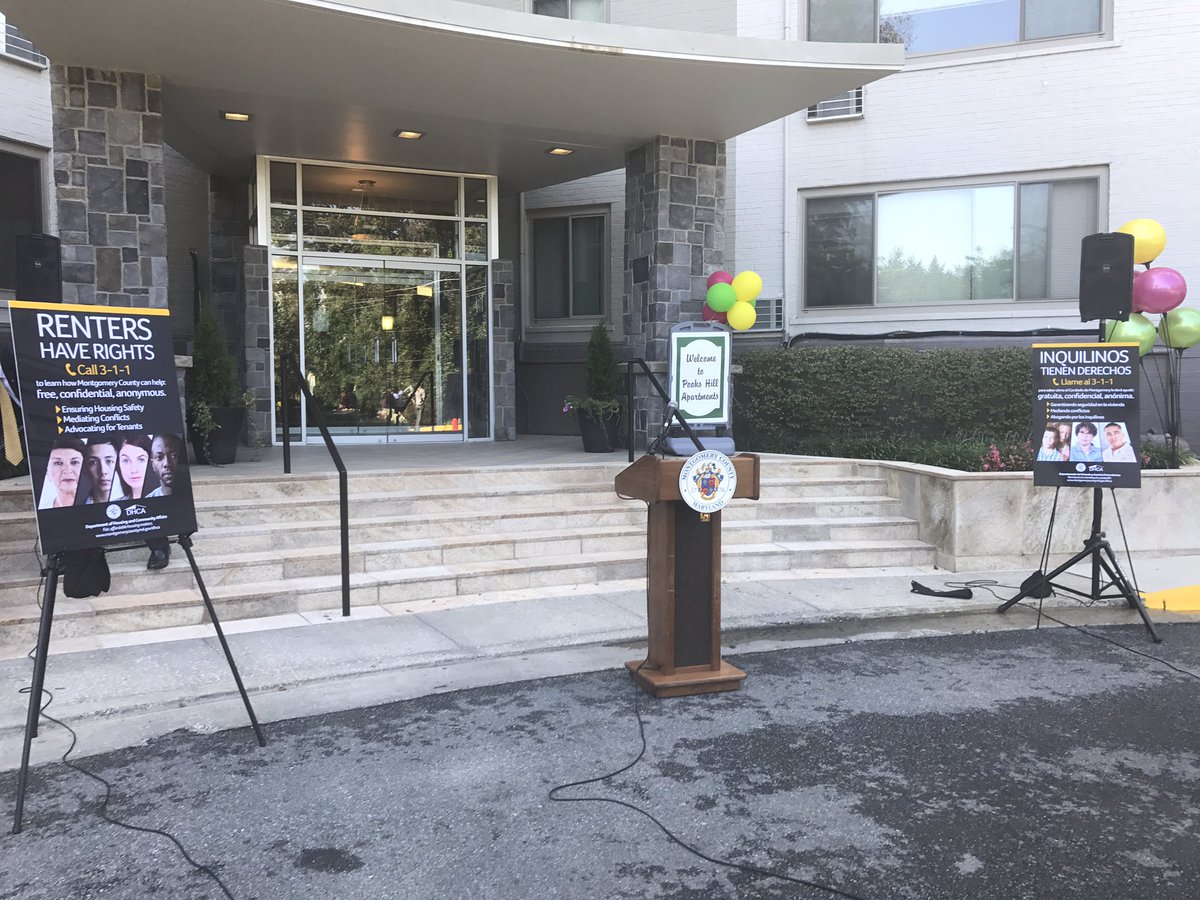 County Officials Launch "Renters Have Rights" Campaign (VIDEO)
There's a new campaign in Montgomery County aimed for tenants to voice housing concerns.
Montgomery County Executive Ike Leggett joined Montgomery County Councilmembers and the Department of Housing and Community Affairs in Bethesda early Thursday to launch the "Renters Have Rights" initiative.
According to Leggett, the goal of this campaign is to inform renters they have a voice.
"When you look at the number of renters in Montgomery County, it is a large number of our population," Leggett said. "As a result, it is incumbent upon county government […] to provide safe and adequate housing for all of our residents."
Back in December, Leggett signed a measure to improve landlord and tenant relations. The bill requires annual inspection of rental properties and requires property managers to make information related to the property public.
As a result of the landlord-tenant relations bill, sponsored by Montgomery County Councilmember Marc Elrich, officials have expanded advocacy resources to tenants so the housing department can inspect and enforce problems be fixed.
"This is a significant step forward," Elrich said. "I hope people begin to feel comfortable contacting the county."
Councilmembers Nancy Navarro and Tom Hucker were co-sponsors of the measure. Hucker said he believes constituents in his district are going to "disproportionately benefit from this legislation," since he represents the oldest and most problematic housing stock in the county.
"No one in Montgomery County should have to put up with mold and mildew, with rats and roaches, and too often, we don't hear from our tenants," Councilmember Tom Hucker said.  "I'm really confident that this will improve the lives of thousands of people in Montgomery County."
To report a problem, renters should call 3-1-1, the county's customer service center, to provide and request information related to housing safety, concerns and mediation of conflicts.
"We do this work to support people," said Stacy Spann, executive director for the Housing Opportunities Commission. "We have properties and apartments in every single neighborhood of this county and our intent is to make sure they are extremely high quality."
Here at Pooks Hill Towers where #MoCo Executive Ike Leggett is announcing a new campaign regarding renters' rights. @mymcmedia pic.twitter.com/UONk8afVkm

— Mitti Hicks (@MittiMegan) September 7, 2017
Joining Leggett here today is @MoCoCouncilMD member @tomhucker @mymcmedia pic.twitter.com/l2ZdOAPBKT

— Mitti Hicks (@MittiMegan) September 7, 2017
Also here is @NancyFloreen and @Marc_Elrich @MoCoCouncilMD @mymcmedia pic.twitter.com/RbJs5L7IX3

— Mitti Hicks (@MittiMegan) September 7, 2017
Leggett is announcing 2day the launch of a "renters have rights" campaign to enforce inspections and change in multi-family apts. @mymcmedia pic.twitter.com/zsnbaF8KPL

— Mitti Hicks (@MittiMegan) September 7, 2017
.@tomhucker "tenants shouldn't have to live with rats and roaches…and should know local gov't is on their side." @mymcmedia pic.twitter.com/ZUARpw5583

— Mitti Hicks (@MittiMegan) September 7, 2017
"This bill combines what government needs to do with what tenants need to do."-@hansriemer @mymcmedia pic.twitter.com/w8QE6mvG68

— Mitti Hicks (@MittiMegan) September 7, 2017
County Executive Ike Leggett Signs Tenant-Landlord Bill (PHOTOS)