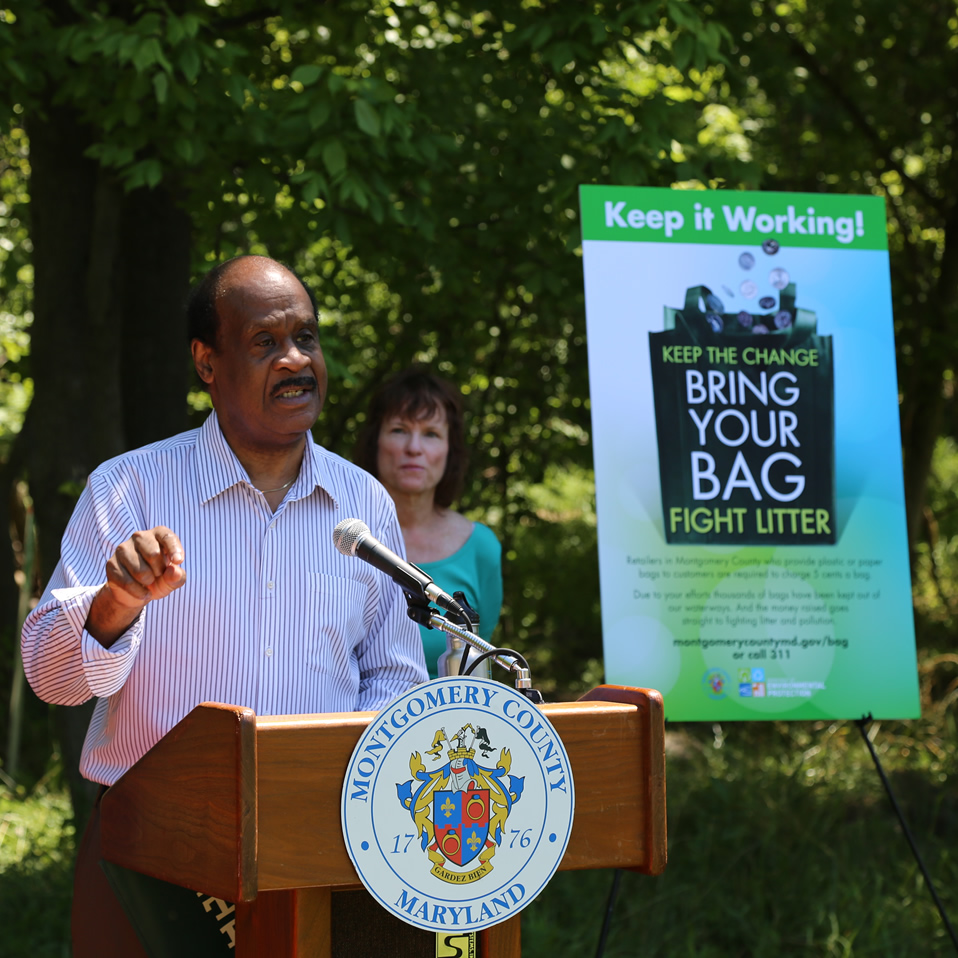 County Promotes Reusable Bags with Stream Clean Up and Bag Giveaway (PHOTOS)
County Executive Ike Leggett was joined by Craig Rice and other officials to promote the use of reusable shopping bags at an event Saturday, June 18 in Silver Spring.
The event included a stream clean-up of the Stewart-April Lane Tributary, remarks by officials and a free reusable bag giveaway at the White Oak Giant Foods.
"I am proud that Montgomery County is a national leader in practices that protect and preserve our environment," said Leggett. "This is a straightforward concept, if residents are using reusable bags the disposable bags are not going to go into our parks, playgrounds and streams. This renewed effort will give additional support to our businesses who are implementing the bag law and ensure that every resident who wants or needs a free bag will be able to get one."
The Montgomery County Carry Out Bag Law (Bill 8-11) was implemented on January 1, 2012 to reduce litter in waterways, on streets and in parks by providing shoppers with an incentive to use their own reusable bags.
Councilmember Rice remarked, "In the 4 ½ years since the disposable carry out bag law went into effect our environmental stewards tell us there are fewer plastic bags in our waterways. It also helps us meet our state and federal requirements by reducing trash within the Anacostia watershed. The disposable bag tax incentivizes residents to really think about our guardianship of our streams, rivers and the Chesapeake Bay and ensure that we do our part to keep our waters free from pollution and litter."
The law requires retailers to collect five-cents for each paper or plastic carryout bag provided by retail establishments at the point of sale, pickup or delivery. Retailers retain one cent of each five cents for the bags they sell a customer. Proceeds from the law are dedicated to programs that fight litter and control water pollution.
"The carryout bag law is intended to encourage everyone to do their part to ensure that trash does not get into our waterways," said Department of Environmental Protection Director Lisa Feldt.
Free reusable bags will be available at all Montgomery County Public Libraries beginning today. In addition, free bags are available to families who use the Manna Food Bank.
For more information about the law, visit www.montgomerycountymd.gov/bag.