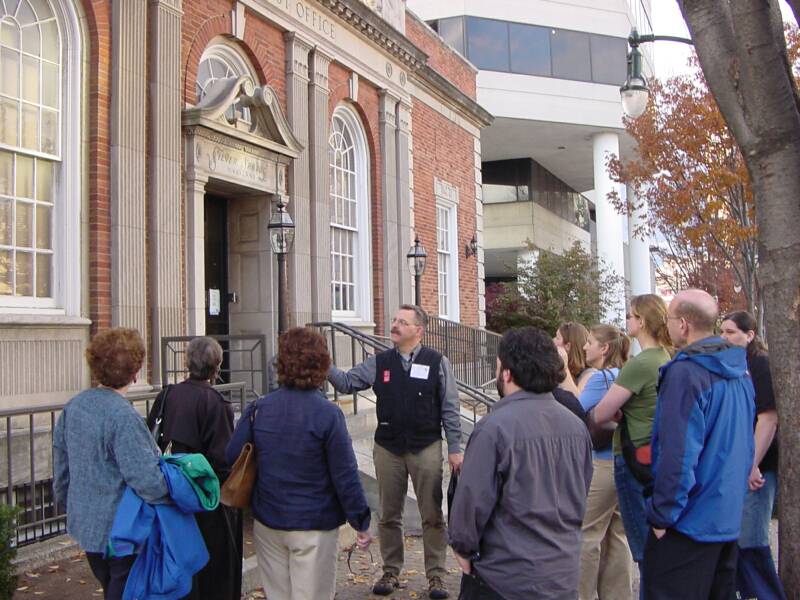 County Resident Tells Silver Spring History Then and Now
Jerry McCoy is a Silver Spring resident.
He is also known in the community as the founder of the Silver Spring Historical Society– a nonprofit that promotes awareness and protects historic sites, archives and structures related to downtown Silver Spring and close neighborhoods.
McCoy and his wife moved to Silver Spring in 1992. He said he was "kind of excited about moving to downtown Silver Spring because it was ahead of the time as I long refer to as precultural icons: It had a working train station- the MARC commuter train station. It had a twenty-four-hour diner- Tastee Diner, which I thought was really cool."
However, it was not until he found out that Silver Spring had one of the 14 post offices in the state of Maryland built during the New Deal era that he fully embraced Silver Spring History.
Those 1930's post offices had murals with art in the lobby. McCoy wanted to find out more about what happened to the mural on the Georgia Avenue building.
"As I approached the building I saw the Wiz Records Store sign in the front of the building … so I walked in, and I saw it wasn't there. … There's nothing original in the building and that's what got me started was that search for that post office mural," McCoy said.
According to McCoy, one of Silver Spring's former postmasters commissioned an artist who scraped the 16.5 foot long oil canvas mural off the wall. The postmaster placed it in a basement of the Blair Post Office substation.
McCoy also hosts walking tours. Visitors learn about historical sites in Silver Spring, and it was during a tour, he met one of the founders of the Friends of The Silver Spring Library. The organization needed a piece of art to be placed behind the circulation desk.
"A light bulb kind of went off. I thought 'I got a mural looking for a home. … So that's how it started,'" he said.
In 1997, the mural was dedicated at the old, now closed, Silver Spring Library on Colesville Road. However, on June 20, the mural will be on display again at the new Silver Spring Library on Fenton Street.
"I just thought that it needs to be an awareness … that although we are unincorporated there's a history, you have to dig for it. And that's how the Historical Society started," he said.
He used to live in Adams Morgan, D.C. where he worked as a public relations photographer for 16 years. After losing his job, he decided to go back to school for a degree in Library Science.
"That's when I got a job with the D.C. Public Library. … I'm so fortunate that I get paid for serving and educating about local history for D.C. and Georgetown, and I basically do the same thing for Silver Spring but as a volunteer," he said.
At the Silver Spring Historical Society, everyone is a volunteer.
"It always amuses me when I get phone calls people think I have a secretary, and we have a bricks and mortar facility where people can come and utilize our materials, which we are working on. But right now the majority of the materials are in the basement of my house," he added.
When it comes to the future of Silver Spring Historical Society, McCoy would only share "The Society has identified a location for their achieves."
McCoy is also the author of Historic Silver Spring (2005) and Downtown Silver Spring (2010), both by Arcadia Publishing.