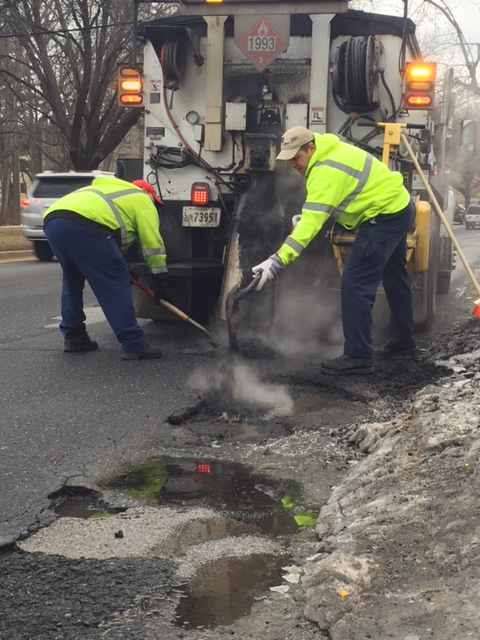 County Takes on Potholes (VIDEO)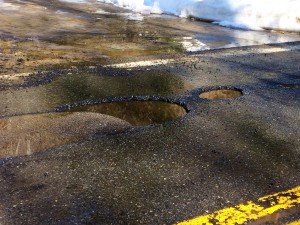 To take advantage of the forecasted warmer weather over the next few days, Montgomery County Executive Ike Leggett announced that the Department of Transportation (MCDOT) will begin intensive efforts to fill the County's potholes.
According to a news release, this year's historic winter storm, and fluctuation of temperatures over the past couple of months, has accelerated the creation of potholes.
"This has been a winter of extremes in temperature, which exacerbate formation of potholes on our County roads,"  Leggett said. "That's why our Division of Highway Services crews are out in full force to ensure that our roads are in decent shape. I want to thank our staff for their tireless efforts to keep the roads clear of ice and snow and for all they do to repair and maintain our transportation infrastructure," he said.
The department has filled more than 1,000 potholes reported through MC311 since January. For a majority of potholes, MCDOT uses "cold patch" material; however, for potholes that require more work, areas may need to be excavated and repaved with asphalt. This process can take more than one visit to repair.
MCDOT relies on resident reports of potholes and repair crews also stop to fill any other potholes encountered as they make their rounds. Residents can report potholes online or by calling the MC311 Call Center at 311 or 240.777.0311, Monday through Friday from 7 a.m. to 7 p.m.
MCDOT also maintains more than 5,200 lane miles of roads in the County. The Maryland State Highway Administration (MSHA) fills potholes, plows snow and maintains numbered routes in the County, such as Maryland routes 355 or 97. MSHA can be reached at 301.513.7300 or online. In addition, municipalities, such as the cities of Rockville or Gaithersburg, handle their own repairs.