County and KID Museum Partnership at Davis Library in Bethesda (PHOTOS)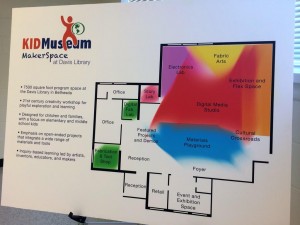 Montgomery County Executive Ike Leggett has announced the creation of the County's first dedicated maker space through a partnership with KID Museum, a new regional children's museum based in Montgomery County.
The June 18 announcement coincides with the first-ever White House Maker Faire, which also takes place today. The County's partnership with KID Museum will be featured at the White House event as an exemplary local public-private partnership to advance "maker" programming and engage youth in STEM learning and innovation.
Officials also will announce the County's three-year agreement with KID Museum, which will provide "maker" programs in the 7,500 square-foot space on the lower level of Davis Library. Future plans call for KID Museum to establish a permanent home in the County.
Joining Leggett at the announcement were County Council Vice President George Leventhal, Councilmembers Roger Berliner and Hans Riemer, Montgomery County Public Libraries Public Services Administrator Carol Legarreta, KID Museum President/CEO Cara Lesser and Superintendent of Montgomery County Public Schools Dr. Joshua Starr.
We are opening 7,500sqft of creative MakerSpace, where kids can make, explore & experiment w encouragement of artists, teachers & engineers

— KID Museum (@KIDMuseumMD) June 18, 2014
Related: