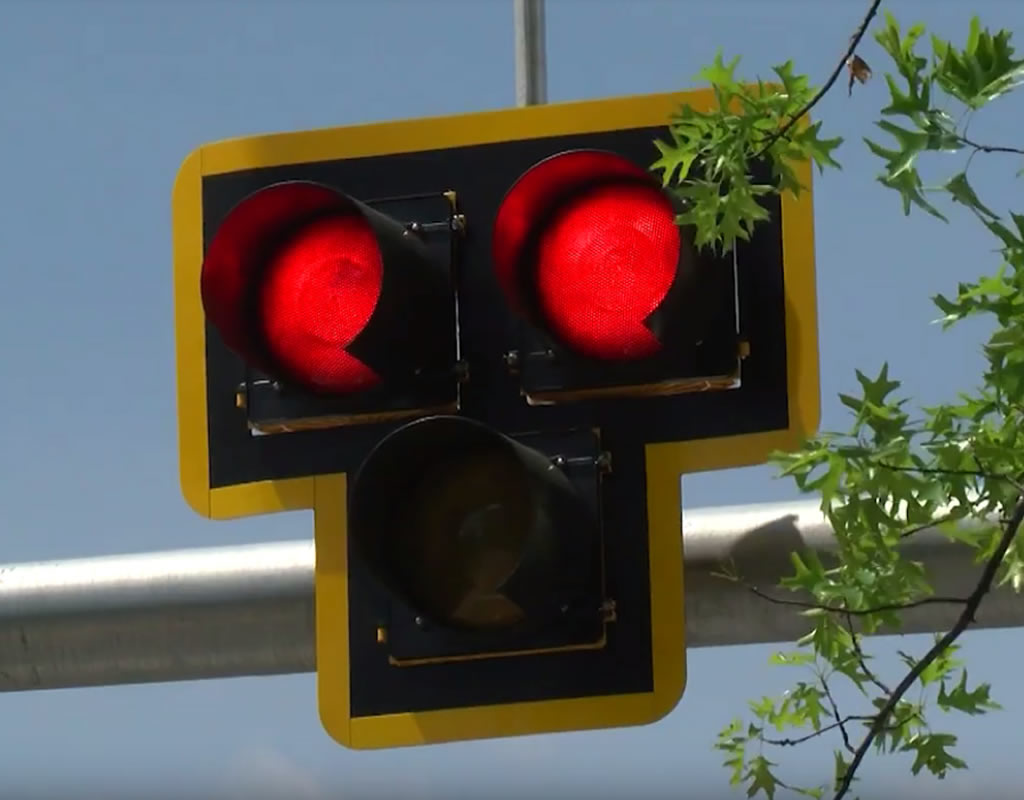 County Unveils Pedestrian Safety Improvements in Aspen Hill
Montgomery County activated a new crossing signal in Aspen Hill Friday to improve pedestrian safety. County Executive Marc Elrich, County Council Vice President Sidney Katz, County Councilmember Evan Glass, and Department of Transportation Director Al Roshdieh attended a ceremony Friday at the crossing in Aspen Hill.
The new high intensity activated crosswalk (HAWK) beacon on Aspen Hill Road is located between Georgia and Connecticut Avenue.
Take a look:
The Montgomery County Department of Transportation (MCDOT) installed the pedestrian beacon in response to community concerns about the safety of pedestrians crossing Aspen Hill Road between two busy shopping centers to the north and south.
This is the fourth pedestrian beacon of its kind constructed by MCDOT in the County. HAWK beacons flash yellow when a pedestrian presses the signal button, then turn solid yellow and finally red to stop oncoming motorized vehicles; pedestrians are then given a walk signal.
HAWK beacons are an option to meet pedestrian safety needs at mid-block crossings or where the traffic volume at the site is too low to warrant a full signal. In evaluating sites for a HAWK beacon installation, MCDOT considers the volume of pedestrian traffic, the type of roadway, traffic speeds and sightlines. The new beacon, a routine MCDOT improvement to traffic signal infrastructure, aligns with the County's Vision Zero initiative to improve pedestrian safety.
"This represents the latest milestone in our efforts to increase the walkability of our communities," said County Executive Elrich. "Our residents have a right to safe crossings as they move around the neighborhood, shop and run errands."
Montgomery County typically installs HAWK beacons where traffic speeds are 35 mph and lower. The County's first HAWK beacon, installed in 2010 on Gude Drive in Rockville, is slated for conversion to a full signal given the length of the pedestrian crossing. Another HAWK beacon, to be installed in Chevy Chase at Willard Avenue and the Hills Plaza, is currently in the design phase.
"As part of our ongoing effort to improve pedestrian safety, we are committed to pursuing signalization for mid-block crossings and uncontrolled intersections," said MCDOT Director Al Roshdieh.
MCDOT is working with the Maryland Department of Transportation (MDOT) to encourage assessment of unsignalized crossings on state roads in the County based on MCDOT's practices. MDOT is currently reevaluating its signalizations to address pedestrian safety concerns.