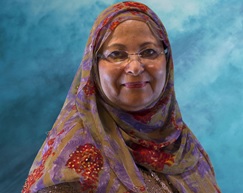 County Welcomes New Middle Eastern Liaison
The Montgomery County Office of Community Partnerships is welcoming a new liaison responsible for connecting and representing the Middle Eastern community.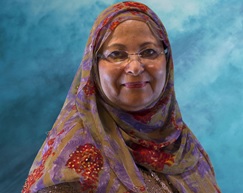 Mimi Hassanein lived in Egypt and completed her Bachelors of Arts degree from Cairo University. For several years, she chaired the Bilingual Advisory Committee for the Montgomery County English for Speakers of Other Languages Division and served as an Arabic translator for Montgomery County Public Schools.
In 1995, Hassanein successfully coordinated the first International Student Exchange Program between Sherwood High School in Sandy Spring, Md., and a sister high school in Cairo, Egypt.  Also that same year, the Montgomery County Parent-Teacher Association awarded Hassanein its Lifetime PTA Membership Award for outstanding efforts and achievements in parent-teacher involvement in public schools.
Hassanein has served for several years on the Middle Eastern Advisory Group for County Executive Ike Leggett and the Commission on Child Care.
Hassanein is bilingual in Arabic and English. She has three grown children and fifteen grandchildren.
I caught up with Hassanein during her first month in her new position:
What is the first thing that you're going to do in your new position?
"I want to reach out to the Middle Eastern Community. I want to teach the basics and importance of volunteering. There are several Non-profit Organizations in Montgomery County who give great services the residences. I want to connect the Middle Eastern Community with these non-profits world to utilize those services, multiply the faith base groups and increase the non-profit organization.
I also want to bring awareness to our elected officials about the Middle Eastern Community, serve as a bridge between the Non-profits and County with the Middle Eastern Advisory group. Most importantly, teach that Education should be an intrinsic element to a person; it is a passport into integration, a means for the community to integrate in their new home. It is also a means for the Montgomery County to know more about the Middle Eastern Community as well."
What do you think are some of the challenges facing the Middle Eastern Community in Montgomery County?
"Volunteering and engaging in civic institution is a part of American culture. Unfortunately, not every member of our community is familiar with the importance of this concept. There are a lot of young bright minds in our community and I want to bring them out to this culture and instill in their minds that they are actually giving services to their immediate family members or neighbors by the civic work.
In due process, this will also enhance their awareness about the resources that are available to them in their county. Another challenge that we face is language barrier for some members of our community. I want to connect them to Gilchrist Center for Cultural Diversity in order to help them integrate to their new home."
What is the most exciting thing about your new position?
"I came here 43 years ago and served in non-profits either by actively volunteering or working professionally for 30 years. My new position will enable you to reach out to a wider group of the community to share my story and use my expertise and network to better their lives."