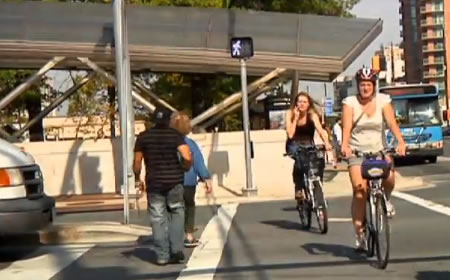 County's First Ever Pop-Up Bike Lane to Debut on Bike to Work Day
Montgomery County's first pop-up bike lane will make Bike to Work Day a safe and worry-free event on Friday, May 18, in Bethesda.  
From 6 a.m. to 8 p.m., this protected bike lane will start as the traffic circle at Cheltenham Drive and Tilbury Street, cross Wisconsin Avenue, head south on Woodmont Avenue and end at the entrance to Capital Crescent Trail, according to the Montgomery County government website. 
The pop-up lane will also serve as a pilot for a permanent protected bike lane on Woodmont Avenue.
One hundred pit stops all over the DMV area will provide Bike to Work Day participants with refreshments, free T-shirts, and chances to win bicycles and other prizes. 
Participants are welcome to join any of 19 free bicycle convoys, led by experienced bike commuters. 
In 2008, the Washington, D.C., region was ranked No. 1 fittest metropolitan area by the American College of Sports Medicine. Bike to Work Day organizers Commuter Connections and Washington Area Bicyclist Association say they hope enough people will participate to help the region will win back the title.  
"Bicycling can improve your health, keep you active, and reduce your carbon footprint, all while saving you thousands of dollars at the gas pump," Nicholas Ramfos, Commuter Connections director, said. 
Anyone wishing to participate in Bike to Work Day can register for free at www.biketoworkmetrodc.org.