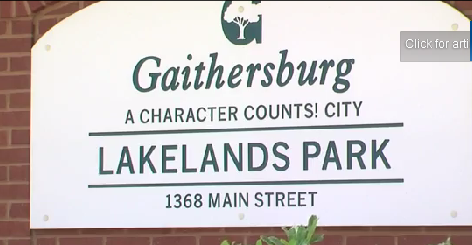 County's First Organic Turf Field Behind Schedule
The first organic turf field in Montgomery County being built at Gaithersburg's Lakelands Park is weeks behind schedule.
The field, to be installed using 100 percent organic coconut fibers, rice husk and cork infill instead of traditional black rubber, was set to be done by Aug. 15. It now looks like it won't be ready until Sept. 16.
Sean Stevens, project manager for the city, told MyMCMedia Friday, that according to the contract the contractor Hellas Contruction Inc. may be charged $1,000 for each day the project exceeds the acceptable delivery date. So far the city has already agreed to a five-day extension on the contract due to rain, bringing the acceptable delivery date to Aug. 20. A trenching issue bumped the project back ten days and a subbase issue added time too, according to Stevens.
"These are not all acceptable delays," Stevens said. Adding in holiday and additional rain delays, Stevens said the contract may likely be approved for an extension to Sept. 1.
Kevin Loutsenhizer, Hellas Construction, Inc. superintendent for the project, said Friday with good weather, workers may make up some time.
"I am hoping we don't have to pay. There is still come time allowed for remediation and I hope we can come to an agreement but if it happens Hellas will pull their pants up and bite it off," Loutsenhizer said.
City Manager Tony Tomasello can make the final decision on whether extension requests will be granted, according to Stevens.
"It looks like Sept 1 is the acceptable extension," Stevens said."I don't want to cut corners. I want this project done right."
Residents should start seeing construction crews laying the green turf next week. Then crews will start pouring the organic infill and marking the field.
The city-owned park is at 1368 Main Street. The field is a bit shorter than a traditional soccer field at 212 feet by 360 feet, according to Gaithersburg Recreation and Parks Services Division Chief Jim McGuire. The Lakelands site was selected as a pilot program for the new turf because of the high amount of hours users on it and the dedication to green initiatives from the mayor and city council, McGuire said.
The project has a total cost of about $1 million and a 12-year warranty.
It is getting some attention from other jurisdictions.
"We have had Montgomery County and Rockville coming out to check out the field," Loutsenhizer said.

Related: