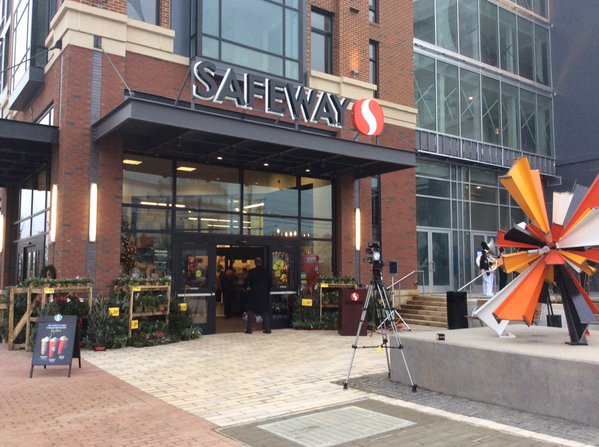 County's Largest Safeway Opens on Rockville Pike (VIDEOS & PHOTOS)
The largest Safeway in Montgomery County opened on Rockville Pike on Dec. 9th.
Safeway representatives welcomed local residents at a grand opening ceremony as the Richard Montgomery High School marching band performed live music at the event.
After a ribbon cutting ceremony, event attendees entered the massive grocery store to shop. The store, which measures more than 62,000 square feet, is conveniently located by Twinbrook Metro station and is a part of a mixed-use project on Rockville Pike called The Galvan.
In this MyMCMedia Extra Video, Safeway Eastern Division President Steve Burnham talks about the unique amenities available at the newly opened grocery store.
To mark the event, Safeway representatives also presented contributions to local groups including the Richard Montgomery High School marching band, The Jewish Community Center of Greater Washington, Rockville Volunteer Fire Department and Easter Seals.
There will be more events at the newly opened store, including an appearance by Chef Huda Mu'min, this Saturday, Dec. 12th. Chef Huda, who competed on Food Networks "Cut Throat Kitchen" and also appeared on ABC's "The Taste," will be providing holiday cooking tips.
Ribbon cutting ceremony. @mymcmedia @mymcmedia pic.twitter.com/s0vw79fFgG

— Maureen Chowdhury (@MediaMaureen) December 9, 2015
Crowd gathered for grand-opening. @mymcmedia @Safeway pic.twitter.com/YQTQ4A3h1i — Maureen Chowdhury (@MediaMaureen) December 9, 2015
.@Safeway presents contributions to Richard Montgomery High, Jewish Community Center,&Rockville Volunteer Fire Dpt. pic.twitter.com/CqSHTrJ6Ed

— Maureen Chowdhury (@MediaMaureen) December 9, 2015
Ceremony begins. @mymcmedia @Safeway pic.twitter.com/b431gjhMmg — Maureen Chowdhury (@MediaMaureen) December 9, 2015
A cake to mark the occasion. @mymcmedia @safeway pic.twitter.com/QO0XMrPGDs — Maureen Chowdhury (@MediaMaureen) December 9, 2015
Richard Montgomery High School marching band performing at @Safeway grand-opening in Rockville. pic.twitter.com/eQxfJtP1SB — Maureen Chowdhury (@MediaMaureen) December 9, 2015
Richard Montgomery High School band performing live music outside of Safeway. @mymcmedia pic.twitter.com/VMfRHwK3Uk — Maureen Chowdhury (@MediaMaureen) December 9, 2015
At the grand-opening ceremony for Safeway on Rockville Pike. @mymcmedia pic.twitter.com/aCs7LbbSs4 — Maureen Chowdhury (@MediaMaureen) December 9, 2015
Photos

Related Posts: