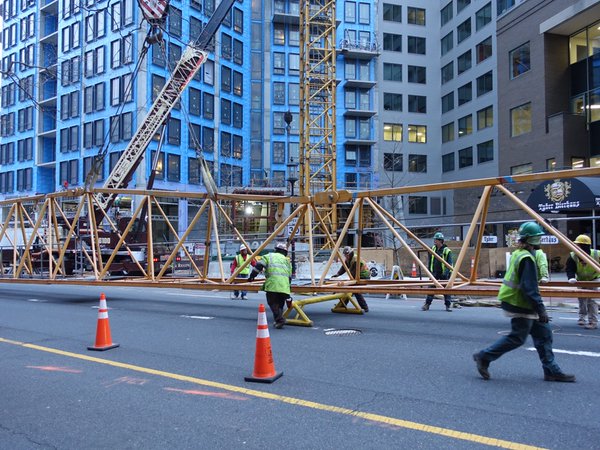 Crane Removal Closes Lanes in Bethesda on Saturday and Sunday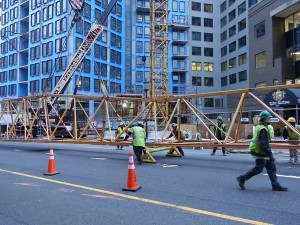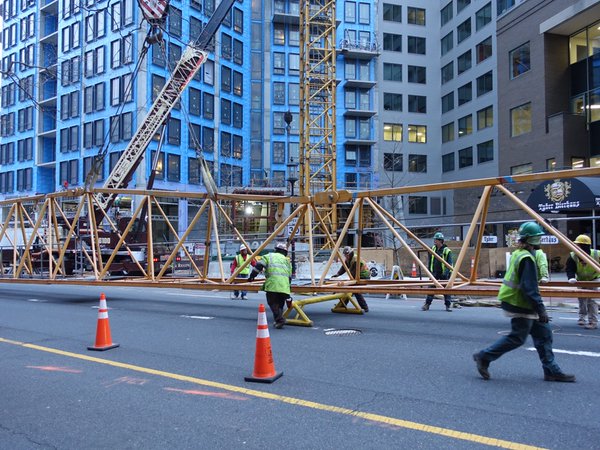 UPDATED The removal of a construction crane is underway on Old Georgetown Road between Wisconsin Avenue and Commerce Lane in Bethesda. There are lane closures. Passersby should expect delays. All lanes are expected to reopen by late Sunday night.
ORIGINAL The Maryland State Highway Administration has announced that there will be some lane closures on Old Georgetown Road between Wisconsin Avenue and Commerce Lane in Bethesda this weekend for the removal of a construction crane.
According to a news release, the lane closures are necessary for the safety of workers, pedestrians, bicyclists, drivers and riders during the crane operation. All traffic lanes should open no later than 11 p.m. on Sunday, March 20.
Beginning at 5 a.m. on Saturday, crews will use a large crane to lift and remove a second crane in place since last year for construction at 7535 Old Georgetown Road, which is just west of Wisconsin Avenue.
In case of inclement weather, the contractor, Schuster Construction, is planning to perform the crane removal operation during the weekend of Saturday, April 2.
Schuster Construction is planning to close three right lanes on Old Georgetown Road inside the work zone and use the left-most parking lane as a through travel lane during the crane operation. No detours are necessary for this work. Drivers should plan for extra travel time and arrange to park in other nearby locations.
Sidewalks directly beneath the work zone on Old Georgetown Road will be closed beginning Friday, March 18 at 6 a.m. to remove and then reassemble pedestrian walkway protective scaffolding where the crane work will take place. Pedestrians will be directed to safe crossings and sidewalks on the opposite side of Old Georgetown Road for all phases of work. The sidewalks will reopen when all scaffolding work is complete and it is safe for people to walk.
The contractor will also use arrow panels, construction barrels, cones and a flagging operation to direct motorists safely around the crane operation. Various phases of the crane work may be loud and disruptive.
Those with questions regarding this project on the day of the crane work should contact Project Manager Jon Gray at 410.790.3565 or Crane Operations Manager John Bildstien at 443.506.2583.
SHA news release – Lane Closures Required For Safe Crane Removal on Old Georgetown Road in Bethesda https://t.co/u5oIKLOZEg #mdotnews

— MD State Highway Adm (@MDSHA) March 17, 2016