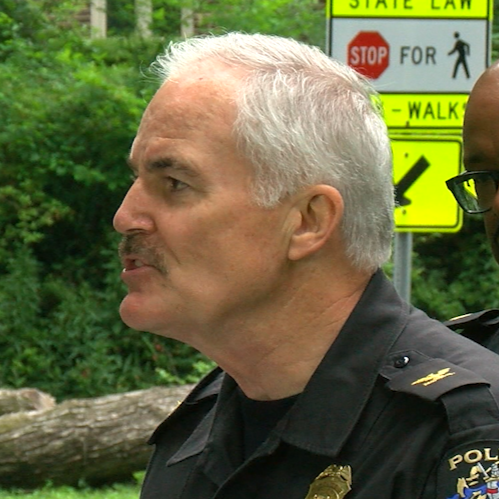 Critics Weigh in on Manger's Tenure
To State's Attorney John McCarthy, police chief Tom Manger's retirement announcement is a sad day for the county.
"He was a tremendous community asset, and he was a great partner," McCarthy said Wednesday.
Other organizations offered less effusive praise.
The Silver Spring Justice Coalition has protested the death of Robert White, an unarmed African American man shot by Officer Anand Bagjugar.
The statement says the coalition sees Manger's retirement as a chance for County Executive Marc Elrich to select a new chief "who will be proactive in earning the trust of and protecting Montgomery County's most vulnerable communities, including communities of color, the LGBTQ+ community, immigrants, people with disabilities, and those facing mental health challenges."
The statement says the coalition "would welcome an opportunity" to work with Elrich on a new police chief.
"Community members — including members of our coalition and in particular, members of vulnerable groups — should be concretely included in identifying selection criteria for the new Police Chief and participating in the selection process. We are looking to County Executive Elrich to set a new tone in our county that supports greater inclusiveness, justice, and equitable services," the statement says.
County spokesman Ohene Gyapong says the county will search nationally and internally for a replacement.
Elrich, who has engaged in "listening sessions" across the county to gauge community concerns, has not specifically asked residents about police.
The county executive will nominate someone to take over the department, and that nomination will go to the County Council for its approval.
Although Manger said he planned on leaving in April, Gyapong said the chief will stay on until a new chief is confirmed.
The Fraternal Order of Police, Lodge 35, called Manger "an admired political figure in the community," praising him for his work on passing Noah's Law, a 2016 measure that requires ignition interlocks for anyone convicted drunken driving.
However, the organization also criticized his cooperation with the union. In a statement, the FOP faulted Manger for a transfer of a K-9 officer, for displacing pregnant officers and denying officers leave.
"Moreover, Tom Manger did not have the decency to communicate his retirement to the working police officers of Montgomery County," the FOP said. Officers, they said, found out from a county press release.
"We wish Tom Manger luck in his future endeavors and look forward to a new Director of the Police Department that is willing to work collaboratively with FOP 35 to protect our communities and our police officers," the union said.