CVC To Celebrate Community Service
The Montgomery County Volunteer Center is offering a variety of volunteer service opportunities to celebrate Community Service Day on Oct. 26.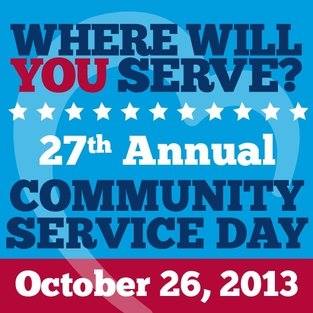 Many organizations are seeking volunteers to help complete projects during the week of October 20 – 27 in recognition of Community Service Day, now in its 27th year. The annual event and week of activities will be kicked off this year with the World of Montgomery Festival on Sunday, Oct. 20 at Westfield Wheaton shopping mall.
"Community Service Day is part of what makes Montgomery County such a special place to live," said County Executive Ike Leggett. "I urge residents from across the County to join together, roll up their sleeves and work to help our neighbors in need and to enhance our community." Leggett will serve alongside other Montgomery County residents during the week-long celebration.
This year's projects include packing after-school snacks at Dawson's Market, removing invasive weeds from local parks, painting a homeless shelter, winterizing gardens in Damascus and Poolesville, recycling electronics at Verizon in Silver Spring and organizing a holiday drive for the City of Rockville.
Manna Food Center will again hold food drives at 27 Giant grocery stores on Oct. 26 and Oct. 27 from 11 a.m. to 5 p.m. Additional opportunities can be viewed on the Volunteer Center website.
"Community Service Day is a wonderful time to introduce local nonprofits and residents to each other. Our hope is that these volunteers will then be inspired to get involved in year-round service opportunities that can be found on our website, MontgomeryServes.org," said Molly Callaway, operations manager of the County Volunteer Center.