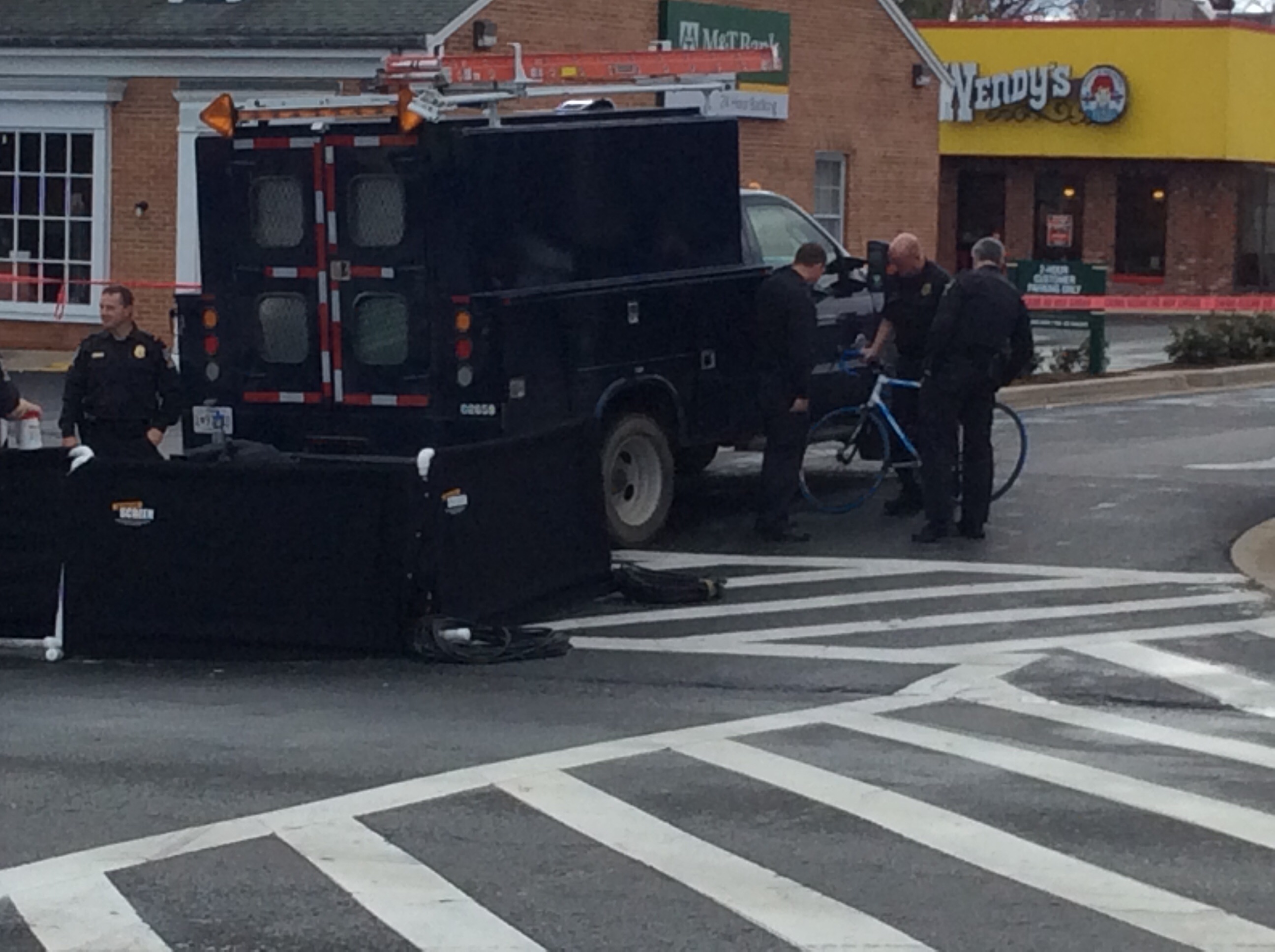 Kentlands Cyclist Struck and Killed by WSSC Truck in Gaithersburg (VIDEO &PHOTOS)
UPDATED, Nov. 24, 3:45 p.m. –  It was a Kentlands resident who was struck and killed on Nov. 24 while riding his bike along Darnestown Road.
Andrew Gerard Malizio, 60, of the 300 block of Hart Road in Gaithersburg, was hit by a Washington Suburban Sanitary Commission utility truck Monday morning as he biked east along Darnestown Road near the Shops of Potomac Valley.  The driver of the truck is identified as John Phillip Kline,  52, of the 12300 block of Wild Cherry Lane in Hagerstown, according to police.
Police said officers who responded to the scene attempted life saving efforts but Malizio died at the scene.
UPDATED, Nov. 24, 1 p.m. – Police continue to investigate an accident along Darnestown Road in Gaithersburg that killed a man riding a bike.
Police said it was a WSSC truck that struck the biker as he rode east along Darnestown Road.
WSSC Spokesman Jim Neustadt released the following statement to MyMCMedia Monday: "This is a very sad situation and our condolences go out to the family. I understand our employee is very shaken by this.  We have our own procedures to follow in such cases which include an investigation by our safety team, in line with MDOSHA regulations. That investigation is underway."
Darnestown Road has reopened to traffic at 1:15 p.m.
ORIGINAL – 
A male bicyclist was struck and killed along Darnestown Road Monday morning by what appears to be a Washington Suburban Sanitary Commission utility truck.
Montgomery County Police say the accident happened about 9:30 a.m. outside the Shops at Potomac Valley. Police said the cyclist, who was wearing a helmet,  was riding east along Darnestown Road when the truck made a left at the intersection in front of the shopping center. That's where the two collided.
Cpl. Rebecca Innocenti explains what happened.
The identities of the biker and the driver of the truck were not immediately released. The investigation is continuing.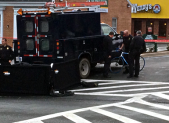 UPDATED – The Washington Suburban Sanitary Commission truck driver who hit and killed a bicyclist along Darnestown Road has been charged with two traffic tickets in the accident. The accident on Nov. 24 at about 9:45 a.m. killed Andrew Gerard Malizio,60, of the 300 block of Hart Road in Gaithersburg. The man who hit him, […]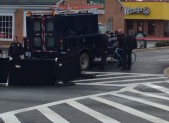 UPDATED, Nov. 24, 3:45 p.m. –  It was a Kentlands resident who was struck and killed on Nov. 24 while riding his bike along Darnestown Road. Andrew Gerard Malizio, 60, of the 300 block of Hart Road in Gaithersburg, was hit by a Washington Suburban Sanitary Commission utility truck Monday morning as he biked east along […]